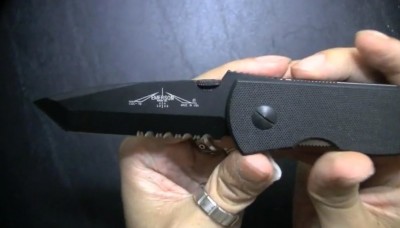 How much would knife collectors pay to own a piece of history? A fair amount, especially if the knife itself is already top-quality. A knife reportedly used in the raid on Osama bin Laden's compound in Abbottabad, Pakistan recently went for auction, drawing in a top bid of $35,400. The knife belonged to none other than "Mark Owen," a pseudonym for the retired Navy SEAL who wrote the controversial first-hand account of the mission in the memoir No Easy Day.
Owen was previously a member of SEAL Team 6, the elite unit that stormed the house bin Laden was hiding in. Prior to the mission Owen was given an Emerson CQC-7 tactical folding knife by its designer Earnest Emerson. According to the auction page, Owen carried the knife for over eight years and has now put the knife up for auction to help For the Boys, a fundraising event that will raise money for a number of charities benefiting Special Operation Forces.
"I'm donating the knife because the owner of Combat Flip flops is a friend and when he told me about this auction and all the good that the money raised was going to go towards, I wanted to help in anyway that I could,"Owen said. "Giving back to our community is very important to me and if donating this knife to charity helps with that process then I'm more than happy to do it!"
From the images on the auction's page, the knife seems to be an Emerson CQC-7B, which has a blade length of 3.375 inches and a tanto tip. The knife series is very popular with Special Forces operators and has seen use in battlefields around the world. While made for combat, the knife would also fare equally well in the outdoors, if a bit on the shorter side. This knife is also notable in that it comes in a chisel grind and is made from 154CM stainless steel.
The winner of the auction will receive letters of authenticity from both Mark Owen and Earnest Emerson.
A review of the knife by nycdave212 on YouTube is available below:
Image screenshot of video by nycdave212 on YouTube