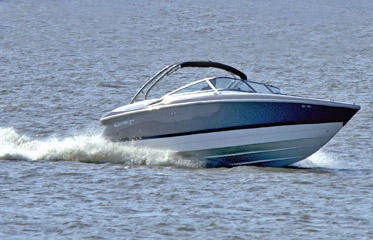 National Safe Boating Week, May 18-24, serves as a reminder that, in the midst of making summer memories, it's easy to forget about the hazards of spending a day on the water. To ensure you and your loved ones have a safe and enjoyable boating experience, here are 10 water safety tips for a successful summer.
1) Make sure your boat is properly registered.
Motorized boats and sailboats are required to be registered and properly numbered before being operated on Kansas public waters. Original registration papers must be on board and available for inspection. Registration numbers must be properly displayed on the boat's hull.
2) Know the rules of the water.
Many people are unaware that there are operating rules for boats on the water, which include being able to recognize buoy markers and the proper use of navigation lights. Knowledge of these rules can prevent dangerous, and even deadly, situations.
3) Make sure your boat has all required equipment.
Boaters are required to have the following items at all times:
Certificate Number

Registration Decal

U.S. Coast Guard Documentation

Boating Education Certification

Life Jackets

Type IV PFD

Sound Producing Device

Ventilation

Muffler

Navigation Lights

Fire Extinguisher

Backfire Flame Arrestor

Skier Down Flag

Wide Angle Mirror/Observer

Ignition Safety Switch

Vessel Capacity Plate

Hull ID Number
(Some equipment requirements are specific to the type and length of boat. Refer to boating regulations for more details).
In addition to the aforementioned required items, it is recommended that boaters also possess the following items:
Drain plugs/spares

First aid kit

Anchor

Paddle

Tool kit

Electrical tape/wire connectors

Spare fuses

Extra two-cycle oil

Spare trailer light bulbs

Extra life jackets
4) Install a carbon monoxide detector.
Dangerous levels of exhaust fumes can accumulate on board if proper precautions are not taken. Install a carbon monoxide detector on inboard and cabin motorboats to alert you if this "silent killer" should pose a threat to you and your family.
5) Test your equipment before hitting the water.
It is important to make sure that your equipment is in working order prior to leaving land. If an item needs replacing, it's better to spend a little money now and save yourself trouble later.
Specific items to test include, but are not limited to:
Outboard motor

Trailer lights

Batteries

Electrical gear

Safety gear

Fire extinguisher

Life jackets
6) Know CPR.
In addition to adult CPR, it is also important to learn infant and child CPR. Many local hospitals, fire departments, Red Cross offices, and recreation departments offer CPR training at little to no cost.
7) Designate a "water watcher" while playing in the water.
Regardless of a swimmer's age or skill level, it's always smart to have someone keep an open eye. When there are several adults present and children are swimming, it is wise to designate an adult as the water watcher for a specific amount of time to prevent lapses in supervision.
8) Have a life jacket on at all times.
Kansas law requires that all boats have one U.S. Coast Guard-approved, readily-accessible personal flotation device (PFD) for each person on board. Children age 12 or younger are required to wear a life jacket at all times when on board a boat, and it is recommended that adults do the same.
*To see if your life jackets meet current U.S. Coast Guard standards, visit www.uscgboating.org and click "Safety / Life Jacket Wear / Wearing your Life Jacket."
9) Allow only those who have completed boater education to operate the vessel.
Anyone age 12-20 must have completed an approved boater education course before operating a vessel without the direct supervision of an adult. Approved adults include anyone age 18 or older who has completed the course or any adult age 21 or older.
*No one younger than 12 may operate a vessel without supervision regardless of a boater education certification.
10) Adhere to a "no drinking" policy while boating.
Boating under the influence is just as deadly as drinking and driving. Penalties can include large fines, suspension or revocation of boat operator privileges, and jail terms. To be on the safe side, only consume alcohol when on land, and never before operating your boat.
For more information, including a list of current boating regulations, visit www.ksoutdoors.com and click "Boating."
Image courtesy Kansas Department of Wildlife, Parks and Tourism