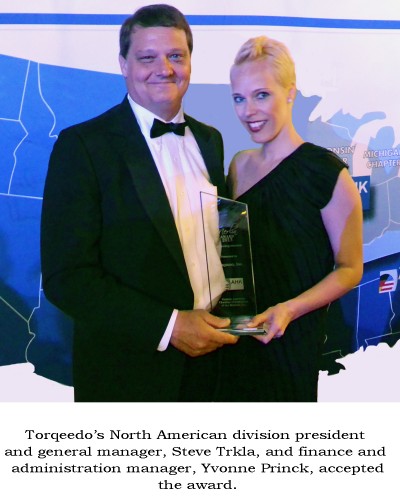 Winning in the category of Outstanding Innovator, Torqeedo received a Merlin award from the German American Chamber of Commerce of the Midwest (GACCOM) at its annual MERLIN Awards Gala in Chicago this May.
"The German American Chamber of Commerce has a long history of recognizing top talent within the business community and Torqeedo is honored to receive the MERLIN Award this year," said Steve Trkla, president and general manager of Torqeedo's North America division.
Torqeedo continues to introduce new innovations to the marketplace. Deep Blue, the latest addition to Torqeedo's line of electric outboard motors, has been recognized as a game changer. The first adaptation of lithium batteries from the automotive industry to the marine environment, Deep Blue is environmentally friendly and independent from the market price of gasoline. This 80 hp electric outboard sets new standards in convenience, efficiency and safety.
The German American Chamber of Commerce (GACC) promotes business relations between the United States and Germany. Its continuing mission is to assist in the expansion of bilateral trade and investment between the United States and Germany. Combining elements of a trade commission, a membership association, and a professional consultancy, the GACC is quite a unique concept in international trade promotion.
Image courtesy Martin Flory Group