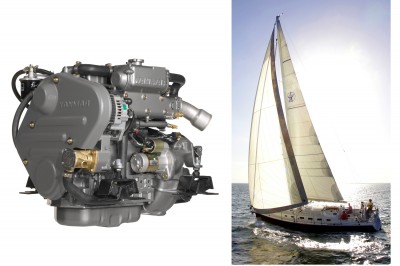 When two masters of marine design collaborate, it's no surprise that they should create one brilliant craft. The new Blue Jacket 40 performance cruiser has it all—luxurious fittings, impeccable quality and thrilling handling. Thanks to Mastry Engine Center, it also comes equipped with a whisper-quiet Yanmar 3JH5E 39 hp diesel engine. Whether heading out for a lively afternoon jaunt, a relaxing weekend excursion or a memorable family vacation, sailors will find all they desire aboard the Blue Jacket 40.
The brainchild of Tim Jackett, ex-president and chief designer at Tartan and C&C, and Bob Johnson, Island Packet CEO and chief designer, the Blue Jacket 40 represents the first in a premier series of modern performance-oriented cruising sailboats. Blue Jacket Yachts, a project of Island Packet Yachts of Largo, Florida, will appeal to the discerning sailor seeking a top-of-the-line craft. The Island Packet team, known for providing exemplary quality, value and customer support, will handle Blue Jacket's construction, sales and marketing.
Notable features of the Solent-type yacht include a working jib with self-tending Hoyt Boom® plus a large reacher for offwind work. State of the art premium structural foam coring makes up both hull and deck.
Every Blue Jacket 40 comes equipped with a Yanmar 3JH5E series engine provided by Mastry Engine Center. Legendary for their reliability,
Yanmar diesels stand predominant in the sailboat market. The 3JH5E delivers maximum performance, efficiency and longevity, all in a compact package. This four-stroke, water-cooled, direct injection engine complies fully with EPA Tier 3 emissions regulations, and weighs 381 lbs.
Sea trials on the Blue Jacket 40 convinced Bill Bolin, Blue Jacket Yachts VP of sales and marketing, that Yanmar's vigorous diesel engine offered the right stuff. "Our sea trials confirmed that the Yanmar 3JH was the perfect choice for this performance cruiser: lightweight, powerful, quiet and smooth. Coupled with a folding propeller for maximum performance under sail and power, we exceeded theoretical hull speed under wide open throttle."
Bolin also praises the role of Mastry Engine Center in the project. "The staff possesses a depth of knowledge and shows genuine concern for our needs," he said. Based in St. Petersburg, Florida, Mastry boasts over 50 years of experience in providing diesel and gas solutions for marine customers. The company specializes in diesel repowers and powertrain applications and installations, supporting a network of over 140 authorized dealers throughout the southeastern US and the Caribbean.
Mastry's personalized service sets them apart, said Bolin. "We've dealt almost exclusively with Mastry since our founding in 1979. They're not just a supplier, they're our neighbors. Unlike a faceless internet warehouse, they're actively involved in the local and marine communities. Our business relationship with Mastry is like family." Information about the Blue Jacket 40 can be found at www.bluejacketyachts.com.
Image courtesy Martin Flory Group