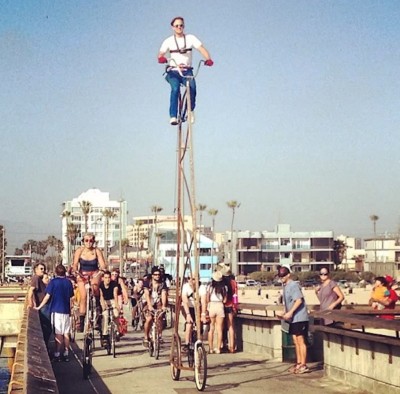 Several times a year, CicLAvia brings runners, cyclists, and those fed up with the urban smog to the streets of Los Angeles in order to promote clean air and healthy living in the city. Over 150,000 cyclists showed up to the event in late April, including Richie Trimble. Trimble did not quite ride on the same level as the other participants however, joining the crowds with his 14.5-foot-tall bike.
According to the L.A. Streets Blog, Trimble had previously constructed high bikes before with the aid of a build-it-yourself bike shop. His first was a three-frame tall monstrosity which was later retired, chiefly for safety's sake. For the CicLAvia event he built "Stoopid Tall," a bicycle so high that he doubted he would be able to ride it. Trimble spent twelve hours building the vehicle and barely managed to finish it before the rally started. CicLAvia was in essence a test run. Thankfully, it proved to be more stable than his previous creations.
"I think I'm an adrenaline junky," Trimble said. "The whole build up before riding Stoopid Tall is probably my favorite part. The anticipation of what it's going to be like."
Trimble had to mount it by literally climbing the bike's frames. Even though he tried to keep the bike light on its wheels, the Stoopid Tall still weighed roughly 100 pounds. Along with a number of hazards, Trimble risked injury to himself or another cyclist. An unexpected danger also occurred when he wheeled under the 405 freeway and found that the underside of the bridge was a mere two inches above his handlebars.
"That moment was amazing because you see the freeway coming," Trimble recalled.  "I could see the top of the cars going by and I had never seen that before. And everyone is cheering for me to touch the bridge. I reach up and high five the bridge. As I go under, I drag my hand along the top and I'm thinking, 'Wow, I'm probably the only person to have touched this besides the workers that built the overpass.'"
In the end Stoopid Tall went strong for over 20 miles before Trimble decided he needed a break. The dismount involved tackling a telephone pole and dropping down, during which he suffered a slight sprain to his left ankle.
"But, man, it was so worth it!" The cyclist said afterwards. "There was an uncountable amount of smiles that day. I will sprain my ankle every day for smiles!"
Below is the video of Trimble's ride:
Image screenshot of video by LABikeCult on YouTube