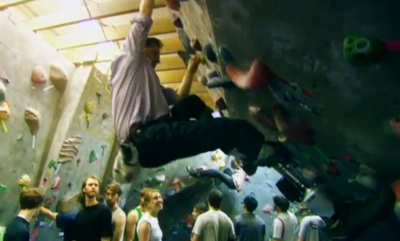 Hugh Herr has been an enthusiastic climber since he was six, a passion he shares along with overseeing a biomechatronics lab at the Massachusetts Institute of Technology. When an climbing accident deprived Herr of his own legs in 1982, it was only natural that he would be invested in pushing the boundaries of prostheses and "bionic" technology. Now Herr walks on powered bionic limbs that behave and move as naturally as biological limbs.
"What happens is when I walk it powers my movements from step to step in the same way that your calf muscle is controlled by your spinal cord," Herr told CNN. "We've captured the essence of how the lower leg works."
Both of Herr's lower legs had to be amputated when a blizzard and freezing conditions trapped him while climbing Mount Washington. He was 17 at the time. Eager to return to climbing, Herr at first tackled the rock wall with custom prostheses. While efficient, the static nature of those early artificial limbs quickly drove Herr to innovate. The result is what many call the world's most advanced bionic leg.
"I realized that technology can heal," he said. "It can rehabilitate. In my own case it can actually extend my physicality."
With funding from the federal government Herr and other bionic pioneers are making breakthrough advances. Constructed from state-of-the-art materials meant for endurance, comfort, and mobility, bionic limbs are offering amputees an able–if not better–alternative to their lost limbs. Already 600 applicants are trying out Herr's new design, many of them military veterans.
However, the price of a natural stride does not come cheap. With three microprocessors in each leg and a host of other costly equipment, Herr's own set of bionic legs cost upwards of $120,000. As the technology advances, it is hoped the price will decrease. For now, Herr is more than happy to make additional improvements.
An interview with Herr can be seen below:
Image screenshot of video by GlobeTrendy on YouTube