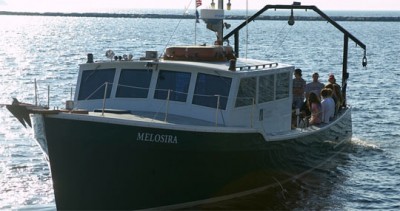 To many people who live and visit the Lake Champlain region, Lake Champlain is an immense body of water filled with mystery and wonder. Even for the scientists who study the living biology and physical functions of the lake for their profession some mysteries still remain. Lake Champlain International (LCI) and the University of Vermont's Rubenstein Ecosystem Science Laboratory have teamed up to give folks the opportunity to reveal some of Lake Champlain's mysteries, something that has never been offered before by these experts. Starting May 18, 2013, Lake Champlain experts and scientists from LCI and UVM will take out groups of interested people on UVM's Melosira research vessel.
"The opportunity to spend a couple of hours with Lake Champlain's most prestigious scientists on our state University's research vessel is rare," said James Ehlers, LCI Executive Director. "Participants will learn a great deal about our lake while on the water, and during some trips, folks will contribute to data collection for important research projects."
A total of five trips, one per month from May through September, will bring into focus a particular component of Lake Champlain ecology or biology. In May, up to 14 participants will join Lake Champlain scientists to learn about "the lost generation" of lake trout and will help search for this missing age class of lake trout. The trip in June for "Jr. Scientists" will host students ages 14-16 who are interested in learning research techniques and collecting real data for Champlain research projects. The July, August, and September trips will allow participants to explore many fascinating components of Lake Champlain. These three two-hour trips address interactions between the lake's creatures, physical dynamics, weather, human influences, and natural history.
"As researchers, we try to solve research 'mysteries', but the process should not be mysterious – we're hoping to get non-scientists and budding scientists informed and excited about how fisheries work is done on Lake Champlain," said UVM professor and researcher Dr. Ellen Marsden. "Participants will assist with fish sampling, collecting data, and learning how to handle fish; in the process we'll discuss our objectives and recent discoveries."
Tickets for the Lake Champlain trips on the Melosira research vessel can be acquired through a donation to LCI for their efforts to ensure a swimmable, fishable, drinkable Lake Champlain. More information and tickets can be found at https://www.mychamplain.net/melosira.
Image courtesy Lake Champlain International