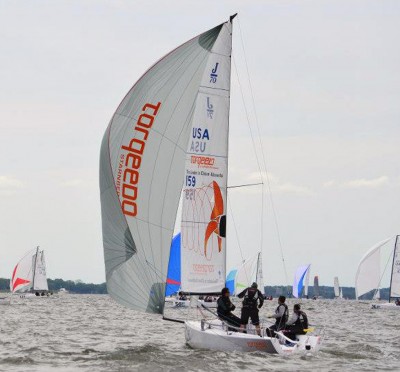 After only a few months of racing, Torqeedo's sailing team achieved its first victory. At Charleston Race Week, Team Torqeedo won race #7 of its event class, leading at every race mark to take a win against the 55 boat fleet. During the four-day experience, Torqeedo's J/70 was one of only five different vessels to claim first place in its class. Overall, Team Torqeedo placed 14th out of 55 entrants.
"We're very excited for our first win and hope for many more throughout the season," said Brandon Flack, Team Torqeedo helmsman and Atlantic Marketing president. "It's also exciting to see this racing class growing so fast and how many of the smaller one designs are being powered by Torqeedo motors."
"The Torqeedo motor is a great fit for sailboat racing," continued Flack. "Our boat is still clean below the waterline, unmarred by gas, oil or grease since our auxiliary propulsion is electric. This makes the boat easier to maintain and it helps keep the vessel in top racing shape."
Torqeedo was also represented in the J/22 class. This team won two of its seven races and finished 2nd overall in an accomplished field of 11 racers.
As an event sponsor, Torqeedo's presence was highly visible. From signage to dry bags to auxiliary motors, Torqeedo was everywhere.
"For a younger company, branding opportunities are important," said Steve Trkla, head of Torqeedo's North America division. "This regatta attracts top racers from around the world and we were very pleased with the exposure Charleston Race Week afforded us."
Team Torqeedo is next scheduled to compete in the Annapolis NOOD in Maryland, May 3-5.
Image courtesy Martin Flory Group