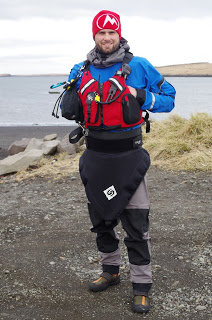 In keeping tradition with a history of sponsoring the most historically significant paddle-powered expeditions, Kokatat is proud to announce its support of Guðni Páll Viktorsson's attempt to circumnavigate his home nation of Iceland.
Yesterday, Viktorsson departed on his attempt to circumnavigate the island nation in 60 days or less. It's a daunting task made more daunting by a set of notoriously dangerous coastal weather patterns that plague Iceland. Viktorsson's route will cover 1,550 miles of coastline, including 250 miles of the nation's South Coast, known for large swells and challenging landings.
Born in 1987, Gudni started paddling sea kayaks in 2007, and currently holds the British Canoe Union's 4-star Leader award, an achievement that signifies a high level of paddling competence. Viktorsson's proposed trip marks his first major solo expedition.
Although a full circumnavigation of Iceland is a crowning achievement in the world of sea kayaking, Viktorsson will also paddle on behalf of Symbian, a charity that affords Iceland's less fortunate food and shelter.
Iceland's coastal climate varies greatly, and is influenced by atmospheric depressions that cross the North Atlantic known as the "Iceland-lows". To withstand the island's temperamental and varied conditions, Kokatat will outfit Viktorsson with a Gore-Tex Expedition Dry Suit, MsFit Tour PFD and TROPOS Light Storm Cag. In conjunction, these three pieces constitute the most comprehensive outerwear system available in paddlesport today.
Follow Viktorsson's progress online at www.aroundiceland2013.com.
Image courtesy Pale Morning Media