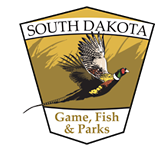 The SD GFP Commission will hold its monthly meeting at Custer State Park's Creekside Lodge May 2-3.
The Commission will be proposing East River, West River, Custer State Park, Black Hills, Archery, Muzzleloader, Refuge and Youth Deer Seasons, as well as Archery Antelope, Fall Turkey, Furbearer/Trapping, August Management Take Seasons and a  proposal for Archery Accompaniment.
The Commission will be finalizing a proposal for changes in off-season camping rates.
Click here for the full meeting agenda and proposal information (available Wednesday).
The meeting will begin at 1 pm MDT at the Creekside Lodge, which is adjacent to the State Game Lodge in Custer State Park. The public hearing portion of the meeting will begin at 2 pm.
Logo courtesy South Dakota Game, Fish, and Parks