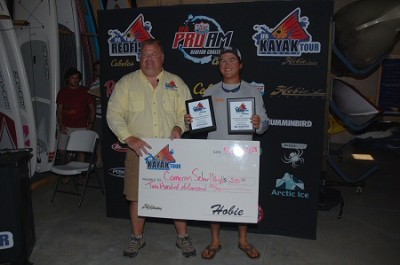 Cameron Schurlknight, of Venice, Fla., caught a redfish and speckled sea trout that measured a combined 64.25 inches in length to win the first event of the season for the Florida East Division of the IFA Kayak Fishing Tour presented by Hobie Fishing at Jacksonville, Fla., on April 28.
A former winner of several IFA Kayak events, Schurlknight sight-fished schools of redfish and trout in the Mosquito Lagoon grass flats. The veteran winner took advantage of contingency prize programs to add to the $1,500 first place prize.
Schurlknight padded his winnings with $541 in Angler's Advantage cash and by winning the $100 Berkley Big Fish award for his 40.50-inch redfish. The angler also won the $200 Hobie Top Angler award for having the highest placed finish for an angler competing out of a Hobie kayak.
Ryan Conner measured a total of 59.75 inches to secure the $1,000 second-place prize. In his fourth year fishing the IFA, Conner is no stranger to placing high in the standings. This marks his third time to place in the top three in the standings of an IFA event.
"Cameron caught some quality fish and is a great angler," said Conner. "I'm completely thrilled with second place. I can't wait for the next event."
Conner experienced calm conditions early and fished swimbaits for trout and hardbaits for redfish.
"It was calm in the morning, three to five knots out of the southeast," said Conner. "I fished mud flats and traveled about a half of a mile."
Third-place finisher Eddie Cabler, of Jacksonville, Fla., won $500 for his redfish and trout that measured a total of 52.63 inches. The angler caught most of his fish early in the Intracoastal Waterway with jigs and softbaits.
Shawn Beltz failed to boat a redfish but won the $100 Big Trout award for his 29.25 trout.
Eleventh-place finisher Cru Cabler took home the $100 Junior Angler award.
The fastest-growing kayak fishing tournament trail in the country, the IFA Kayak Fishing Tour Presented by Hobie Fishing events are catch-photograph-release tournaments, offering inshore kayak anglers from a multitude of states the opportunity to participate in competitive fishing tournaments with low entry fees and minimal travel requirements.
For more information or to become a member of the IFA, visit www.ifatours.com. To discover more about kayaking and Hobie Fishing go to www.hobiefishing.com.
IFA events are made possible through the sponsorship and continued support of these well-respected brands: Hobie Fishing, Ranger Boats, Cabela's, Lucas Oil, Yamaha Outboards, RAM, Berkley Gulp!, Berkley Gulp! Alive!, PENN Reels, Spiderwire, Minn Kota, Humminbird, Power-Pole, Livingston Lures, Amphibia, Arctic Ice, Protect the Harvest, General Tire, Bob's Machine Shop, Blue Point Fabrication, Powertex Group and Audubon Aquarium of the Americas, Nippers Beach Grille and Beach Marine and Black Creek Outfitters.
IFA Kayak Texas Division
Port Aransas, Texas (Top 10)
Cameron Schurlknight – 64.25 inches
Ryan Conner – 59.75 inches
Eddie Cabler – 52.63 inches
Kapers Murph – 52.50 inches
Jason Broach – 52.25 inches
John Reece – 50.75 inches
Nathan Raycroft – 50.00 inches
Judson Miller – 49.38 inches
Elizabeth Saylor – 47.25 inches
Rory Gregg – 46.75 inches
Image courtesy Blue Heron Communications