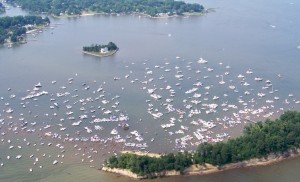 The Maryland Department of Natural Resources (DNR) now requires that coordinators of sizeable boat gatherings obtain a Marine Gathering Permit so that law enforcement and emergency medical services can properly prepare for these events. The new permit only applies to gatherings that will consist of 100 or more vessels and last for longer than three hours.
"The Marine Gathering Permit will allow the Maryland Natural Resources Police (NRP) and other essential agencies to be aware of these gatherings so that we can all work together to ensure the safety and wellbeing of participants, surrounding communities and other boaters," said Col. George Johnson IV. "Our intention is not to stop people from having fun; we want organizers and sponsors to take a more active roll in planning and preparing for their event."
The purpose of the action is to give law enforcement and emergency medical services advance notice of the gathering so that they may plan accordingly and work with coordinators to ensure the event takes place with minimal impact on communities, other boaters and first responders.
The application cost is $100 and is non-refundable. Applications may be obtained online at dnr.maryland.gov/boating/marine_gatherings.asp and must be submitted 45 days prior to the event to: Natural Resources Police, ATTN: Marine Gatherings Coordinator, Maryland Department of Natural Resources, 580 Taylor Avenue, Bldg. E-3, Annapolis, MD, 21401.
Image courtesy Maryland Department of Natural Resources