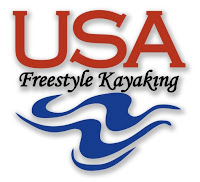 This past weekend the 2013 USA Freestyle Kayak Team was named in Bryson City, NC, during the NOC's Freestyle Shootout & 2013 USA Canoe/Kayak Freestyle Team Trials. Kokatat is proud to equip each athlete on the team with its GORE-TEX Full Zip Jacket and Paddling Trunks as part of the team's official uniform.
"These athletes represent our nation's best and we're excited that they'll be wearing our gear while representing our great country at the World Championships and other competitions throughout the year," said Jeff Turner, Kokatat Sales and Design Manager.
22 paddlers were named to the team including Kokatat athletes Dane Jackson, Eric "EJ" Jackson, Clay Wright, Jason Craig, Adriene Levknecht, Hunter Katich, and Bennett Smith.
Eric Jackson's qualification marks the 25th consecutive national team that EJ has been named to. Equally impressive was Dane Jackson's performance as he qualified in four categories, K-1 Men, C-1, Squirt Men, and OC-1 winning the K-1 Men's event.
"Kokatat has been a backbone for paddlesports in the US, and we're thrilled that they will be outfitting our athletes," Risa Shimoda, chair of USA Freestyle Kayaking, who qualified for the USA Freestyle Kayak Team for the eighth time.
Following team trials, National Team members will compete in various competitions around the country and world before returning to Bryson City and the Nantahala Outdoor Center in September when the retailer and kayak instruction center hosts the International Canoe Federation's (ICF) Canoe Freestyle World Championships.
For more information on the US Freestyle Canoe/Kayak team visit www.usafreestylekayak.com. For more details on the 2013 Freestyle World Championships visit www.freestylekayaking2013.com.
Logo courtesy Pale Morning Media