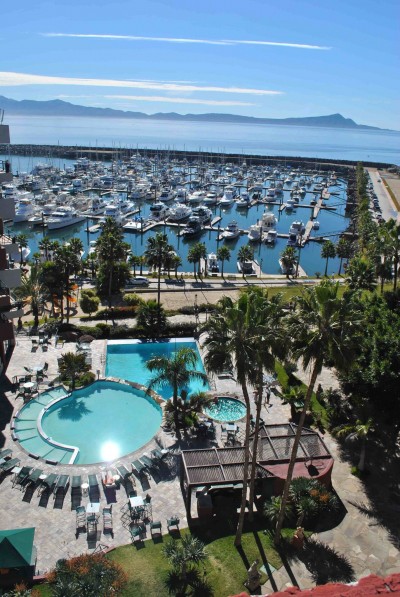 The 66th edition of the Lexus Newport to Ensenada Regatta started at Balboa Pier in Newport Beach, Calif., and concluded two days later, 125 nautical miles down the coast at the luxury Hotel Coral and Marina in Ensenada. The historical race, organized by the Newport Ocean Sailing Association (NOSA), was held April 26-28. The highly anticipated annual competition featured 203 sailboats ranging from recreational cruisers to racing maxi sleds.
Claiming top race honors was Bill Gibbs' Ocean Racing Catamaran Association (ORCA) class 52-foot catamaran Afterburner, which received the President of USA Trophy for best overall corrected handicap time. Howard Enloe's ORCA class Loe Real, a Jenn 60 trimarin, became the second vessel in history to sail in before sunset, in just over seven hours. For his efforts, Gibbs was awarded a two-year lease on a 2014 Lexus IS F Sport. The cruising class winner, Larry Sharpless, who finished his spinnaker Inquisitor in approximately 16 hours and 30 minutes, won a three-night vacation in Hotel Coral's Master Suite, as well as half-off moorage at the property's world-class Coral Marina.
"This is no doubt a highly competitive race with top honors and glory at stake, but the Regatta also fosters a great sense of camaraderie among the sailing community," said Hotel Coral and Marina's Director of Sales and Public Relations, Lizette Sanchez. "It gives marina enthusiasts from across the globe the opportunity to come together and celebrate their love of the open ocean." Sailors come from Mexico, across California, and even as far as New York to compete in the iconic yacht race.
With winds holding strong throughout the race, 185 out of the 203 competitors finished by the Sunday 11 a.m. deadline. Sailors and spectators celebrated Saturday with a Baja Fiesta in Hotel Coral's gardens, featuring grilled fish, lamb and margaritas and live entertainment, and concluded the festivities on Sunday, with the trophy presentation at 2 p.m.
For complete race results and more information about the Lexus Newport to Ensenada Regatta, visit www.newporttoensenada.com and www.nosa.org. For more information about Hotel Coral and Marina, visit www.hotelcoral.com.
Image courtesy Allison PR