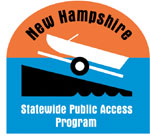 The Wellington State Park boat access facility on Newfound Lake in Bristol, N.H., is currently open, with both ramps available for public use. The site was closed for repairs last September while the New Hampshire Fish and Game Department replaced the old concrete boat launch ramps with ramps of a newer, more innovative design.
One part of the renovation project has yet to be completed – installation of the new accessible floating dock. Currently there is no dock available.  Unfortunately, one of the new piles was displaced by ice movement during the winter, so the new dock cannot be installed until a contractor reinstalls the piling. The earliest that could happen would be mid-June, according to Jeff King, Fish and Game's Statewide Public Boat Access Program Coordinator. When that work takes place, there will be a brief closure of the ramps while the contractor reinstalls the pile.  "We are hoping that work will occur during the week and not impact weekend use of the access facility," said King. Fish and Game will announce the specific dates of any necessary closure when finalized.
Fish and Game constructed the original Newfound Lake boat access facility in 1996 on a 5-acre parcel of State Park land, using federal Wildlife and Sport Fish Restoration (WSFR) and state funds.
New Hampshire's Public Boat Access Program is funded through boat registration fees and WSFR funds. Fish and Game's Facilities Construction and Lands Division acquires land for public water access sites, refurbishes existing sites and builds new public boat access areas.  Visit wildnh.com/access.
Logo courtesy New Hampshire Fish and Game Department