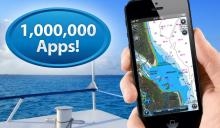 Cartography Leader's Popular Mobile Device Apps Reach Significant Sales Milestone
Navionics, the leader in electronic charting and navigation data, announced today that downloads of its popular mobile applications for boaters and outdoor enthusiasts have crossed into the millions. Navionics apps include valuable features such as planning and real time routing, access to shared community data and updates, geo-referenced articles, points of interest (POIs), social media links, weather, optional overlays, and more.
As a complement to onboard chartplotters, Navionics marine apps provide the same high-quality detailed cartography boaters have relied on for decades, with the advantages of portability, instant community updates, and easy-to-download add-ons such as Nav Module.
"Navionics recognized early on the value and convenience mobile apps could provide outdoor enthusiasts while exploring their passions," said Don Black, Global Vice President of Sales and Marketing, Navionics. "We devoted significant resources to developing powerful industry-leading functionality for our apps and, with over 1 million sold, it is clear that our efforts have paid off. We are committed to ongoing innovation in the mobile software space and will continue to deliver enhanced features and capabilities for Navionics customers."
Image courtesy Navionics