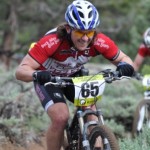 Located in the picturesque Colorado Rockies at 7,700 feet and home to Olympians and adventure athletes who compete across the globe, Gunnison offers legendary trails for biking and running. There's also plenty of fun for weekend warriors and more casual recreationalists and families, making the Gunnison Growler Weekend, May 25 – 27, the perfect convergence for all four sets.
On Saturday and Sunday, IOOF Park and one block of Virginia Avenue between Main Street and Iowa Street will be filled with food vendors, live music and a beer garden for racers and the public to enjoy starting at 1 p.m. This downtown area also will be the start and finishes for most of the biking events. The other center of activity will be Hartman Rocks Multi-Use Recreation Area.
Biking
The Original Growler is now being held over two days, May 25 and 26, to open up the popular mountain bike race to more riders without increasing numbers on the course. The 32-mile Half-Growler (one lap) will officially kick off the local bike racing season on Saturday at 9 a.m., followed by the 64-mile Full-Growler (two laps, climbing 4,000 vertical feet on each) on Sunday at 7 a.m. Each race is capped at 350 riders and starts and finishes in downtown Gunnison at IOOF Park.  Both races are sold out.
Organized by biking legend and local resident Dave Wiens, the races are the primary fundraiser for Gunnison Trails, a nonprofit organization dedicated to maintaining and expanding the singletrack experience in the Gunnison area.  Go to www.gunnisontrails.com for information.
The third annual Growler Gran Fondo ride from Gunnison to Crested Butte and back will begin on May 26 at 7:30 a.m., immediately following the Full-Growler start. This fundraising ride for Gunnison Country Partners follows Highway 135 North to the four-way stop in Crested Butte. At that point, riders have an option to continue up the road past Mt. Crested Butte and to the top of Prospect. This section will be one of the timed sections and will be timed one way only (uphill). At that point the riders will reverse direction and return back to Gunnison the same way. The total route distance is approximately 64 miles and has 2,200 feet of climbing. There will be awards for the top three men and women for the timed sections. Registration is available at www.bikereg.com and costs $40.  For more information contact Mike Tofel at (970) 275-4138 and visit www.gunnisonmentors.com.
For bicyclists who don't want to tackle the Growler Gran Fondo or mountain bike races, Gunnison Country Partners' new Townie Takeover Ride on May 26 is the answer. Ride a cruiser bike on a 1.5-mile course around Western State Colorado University and into town as many times as possible from 10 a.m. to 3 p.m. (or just casually for a portion of the time). Costumes are encouraged, families are welcome, and there will be snacks and music. Registration is $12 or free for those who raise at least $50 in pledges. Register at www.gunnisonmentors.com.
Running
The sixth annual Sage Burner on May 27 features 25 and 50 kilometer trail running races, both starting at 7 a.m. The competition, organized by the Western State Colorado University track and cross country programs, is limited to the first 350 registrants (both races combined). All information and registration details can be found at www.sageburnertrailrun.com. The early-bird cost to register is $50 for the 25k and $65 for the 50k.  Starting May 1, the cost goes up $10 for each race. On-site registration will cost an additional $15.
Prize money for the first three finishers in the men's and women's divisions of the 25k race will be offered. For more information, contact Coach & Race Director Jennifer Michel at (970) 943-3263.
Image courtesy Gunnison-Crested Butte Tourism Association