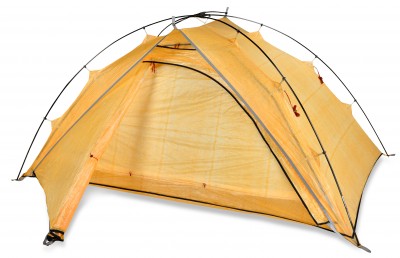 As Easton Mountain Products continues on its proven path of next-generation product development, it has again earned significant recognition at the 2013 Utah Innovation Awards this month. A selection committee comprised of approximately 70 professionals from Utah's business, technology and academic communities, all with experience pertaining to one of the program's categories, selected Easton Mountain Products' new Si2 ultra light mountaineering tent as a finalist in the contest's outdoor and consumer products category.
The Utah Innovation Awards recognizes significant innovations from Utah companies. The primary goal
of the program is to bring attention to the high level of innovation taking place in the state of Utah.
"It's always a great honor to be recognized as an innovation leader in our home state and we're excited to see the Si2 create such a buzz in the industry," says Easton Mountain Products' global sales manager Rich Packer. "Being able to work with a material such as Cuben Dyneema Fiber will help Easton revolutionize the mountaineering tent industry, and it's nice to be recognized by such a distinguished panel."
Easton Si2 Materials & Feature:
Weight: 2 pounds
Easton carbon fiber pole system.
Single-wall construction of waterproof Cuben Dyneema Fiber material.
Select eVent body panels and specialized venting for moisture & climate control.
Dual door & dual vestibule with 31.2 square feet
Dual-door/four-season capable
Expedition ready (85mph tested)
Cuben Fiber material delivers an unmatched strength-to-weight ratio. Developed by Cubic Technologies, the material bonds strong Dyneema fibers to a waterproof poly membrane. This process results in an ultralight, high-strength fabric. Easton has combined these unique fabrication properties with its proprietary carbon fiber pole engineering to create the most advanced single-wall shelter on the market.
Since 1922 Easton Mountain Products, a leader in precision built outdoor equipment, is dedicated to engineering the very best in technical outdoor gear for the serious user. At the core is Easton's proprietary manufacturing of high-strength lightweight aluminum and carbon fiber tubing. Decades of experience and dedication to quality Easton Mountain Products delivers dependable mountaineering, trekking, and winter products to help you Go Farther™ www.EastonMountainProducts.com www.facebook.com/EastonMountainProducts
www.twitter.com/EastonMtnProd
Image courtesy Outside Media