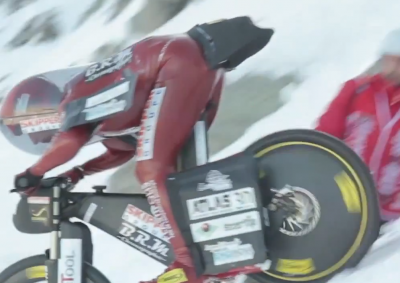 High-speed mountain bike specialist Eric "The Red Baron" Barone has set the serial production mountain bike world speed record on snow with a blistering 135mph descent.
Barone, at age 52, set this new record on the slopes of Les Arcs ski resort in France last Monday. The 135mph mark achieved by Barone tops the previous record by 5mph, and blows away his run the year before by 10mph.
This run adds a third record to Barone's repertoire, joining his 138mph record for speed on a mountain bike prototype, and his 107mph record for speed on gravel in 2002. This run went far smoother than his 2002 record on gravel, however, which ended with a horrible crash in which his bike split in two, several ribs were broken, and his helmet was ripped clean off.
That didn't stop Barone however, or quell his need for speed. This video has footage of Barone's newest 135mph record-setting run, as well as the 2002 crash and his 125mph run last year.
httpv://youtu.be/LfLN_AQYB60
Image and video courtesy EpicTVadventure