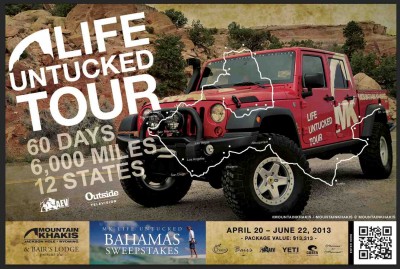 Mountain Khakis, a leading mountain-inspired lifestyle apparel brand known for its "Best Damn Khakis," is taking its mountain vibe on the road with its 60-day, 6000-mile Life Untucked Tour.
Celebrating the company's 10th anniversary year, MK unveiled early in 2013 its Life Untucked campaign.  An extension of the brand's altruistic 'Rise Above It' theme, "Life Untucked" reinforces the MK state of mind. "To Mountain Khakis, the mountain vibe is about keeping it real and not taking life – or oneself – too seriously," said Jen Taylor Muhr, MK Director of Creative Development. "The simple act of untucking one's shirt is a statement about stepping mentally into your happy place. Something we all can relate to."
The Life Untucked Tour
The road show will roll across the United States beginning April 20th at the MOG Outdoor Fest in Grand Junction, Colorado. From there, the tour will wind over to St. Louis, down to Texas, over to Flagstaff for the Overland Expo, across to California, up to Montana and around through Colorado, concluding in Utah, spanning a total of 12 states and 6000 miles in 60 days.
Mountain Khakis' retailers make up the route and will host LU Tour stops, including tailgate parties, promotions and in-store clinics. Folks will enjoy special MK deals, BBQ's, giveaways, music and contests, as well as an up-close glimpse of the exclusive Life Untucked Tour's AEV Brute Double Cab truck.  (More detail below)
"The Life Untucked Tour is everything you would expect from Mountain Khakis – fun, spontaneous and energizing," said Steve Talacki, MK National Sales Manager. "We'll be showcasing our awesome Spring & Fall collections with our retail partners, and our tailgate parties will be memorable events for all.  And with the Brute Double Cab rolling into town, folks can't miss us!"
Fans of Mountain Khakis can track the Tour's progress by visiting the Life Untucked Tour Facebook and Blog pages which will post comments, photos and videos. In addition, Outside Television, the official media partner of the Life Untucked Tour, will feature a promotional spot for the Tour on its Outside Today Show during the month of May.  Mountain Khakis is the official lifestyle apparel of the Outside Television network.
The Life Untucked Truck
For towns on the tour route, the Life Untucked entourage will be easy to spot driving their ultra-exclusive American Expedition Vehicles (AEV) Brute Double Cab rig emblazoned with MK's Life Untucked Tour artwork. Specially granted for Mountain Khakis to use by AEV, the Brute Double Cab is one of only 4 prototypes in existence. The rig is an on- and off-road spectacle tricked out with overland expedition features, including such customizations as a rear bumper with water storage and pump system, as well as one-of-a-kind repurposed-MK seat covers.
"When the opportunity to partner with Mountain Khakis came about, it didn't take us long to say yes," said Matt Feldermann, Marketing Manager for AEV. "MK and AEV have a virtually identical audience type, we see this as a great way to connect the dots for our respective fans, and make new friends along the way."
"Everyone on the MK team is calling shot-gun to hitch a ride in this head-turning rig," said Taylor. "It really personifies the brand with its rugged-yet-refined appearance.  It definitely lets people know that something big is happening."
The Life Untucked Sweepstakes
In conjunction with the Tour, MK is launching its Life Untucked Bahamas Angler Adventure Sweepstakes with the winner and guest receiving a four-day stay at Bair's Lodge on Abaco Island in the Bahamas, 3 days of guided bonefishing on the legendary flats of South Andros, custom-edition fly rods by Thomas & Thomas, Costa del Mar sunglasses and, of course, a full wardrobe of Mountain Khakis coastal apparel and accessories. Other sweepstakes partners include YETI Coolers, Chaco Footwear and American Expedition Vehicles. The prize package value is in excess of $13,000.  Sweepstakes entries can be submitted beginning April 20 using the QR code on MK product hangtags, at the Life Untucked tour stops and by visiting http://www.mountainkhakis.com/sweepstakes. The sweepstakes ends June 22, 2013.
To follow the MK Life Untucked Tour route, visit http://blog.mountainkhakis.com/life-untucked-tour/
To enter the Life Untucked Bahamas Angler Adventure Sweepstakes, go to www.mountainkhakis.com/sweepstakes.
Image courtesy Mountain Khakis