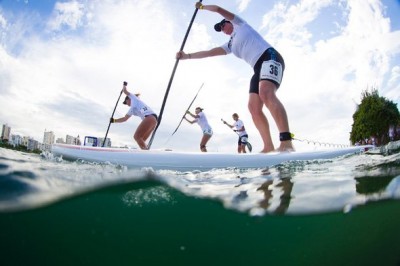 Outside Hilton Head announced the 'Outside SUP Series', a stand up paddleboard race series geared towards enthusiasts of all experience levels. The fun race events will be held at 6pm at the Marshland Road Boat Ramp on May 16th, 23rd, and 30th and on June 6th.
According to Andy Kennedy, Outside Hilton Head's SUP Events Organizer, "the goal of this series is good old-fashioned fun. Everyone, from folks new to the sport to seasoned race vets, should come out and get together for a great day outside!"
Entry fee is $20 per race day or $75 for the series. Fee includes use of all necessary boards and equipment, score-cards and a souvenir. Races will be held in two categories: 'open' for those bringing their own boards, and 'one-design' in which all boards will be the same BIC race board supplied by Outside Hilton Head. Points will be awarded for participation and placement in each race event, and will be cumulative over the series, with prizes being awarded at the series wrap up party on June 6th.
The sport of Stand Up Paddleboarding has seen rapid growth in our area over the last few years, and Outside Hilton Head has facilitated this growth through equipment sales, clinics, instruction, SUP fit classes, SUP Yoga classes, social events and races.
Outside Hilton Head is a Low Country based outfitter established in 1979. The company has a national reputation as a leader in the paddlesports industry. Outside Hilton Head offers a comprehensive of nature based activities in addition to team & leadership development, destination management, and is a specialty outdoor retailer.
Image courtesy Outside Hilton Head