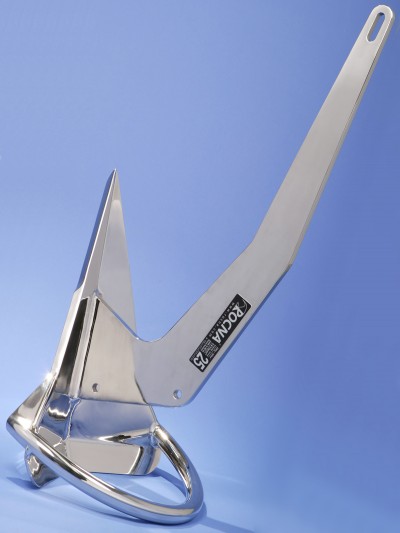 Qualities such as strength, durability and the ability to set and hold in all bottom types place Rocna anchors from Canada Metal (Pacific) Ltd. apart from the rest. Whether used for a leisurely overnight mooring or battening down in a severe storm, these dependable anchors provide safety, security and confidence in many conditions.
Rocna anchors offer super high holding power thanks to a large blade area combined with a concave shape. The chisel-like blade tip easily penetrates any bottom surface, whether mud, clay, weeds, grass or kelp.
Incorporating an optimized geometry, Rocna anchors are designed to remain embedded, even with veering loads or when dragging under extreme loads. Users can expect rock-solid anchoring every time. And in some cases, a Rocna anchor can spell the difference between safety and disaster.
In October 2012, Frederic and Barbie were en route to St. Thomas in the Virgin Islands aboard their Meridian 391 Barbie Girl when hurricane Sandy hit them full force with winds of 110-125 mph. From the cove in which they sheltered, they watched boats around them break loose, some washing onto the beach, others battered into the rocks. Still others vanished as high waves swept them out to sea.
"We have a bridle that leads to 180′ of rode, attached to 60′ of chain, attached to our 40 kg Rocna anchor, which must have buried itself 2-3′ deep with all the force pulling against it," said the couple of their harrowing experience. The following day, they woke unscathed. Although a lobster boat crew offered use of their mooring as a backup, "we never needed it, as the Rocna held firm through it all. We told them that instead of using three different anchors, one of them weighing 150 lbs., all they really needed was one Rocna."
For Matt and Jessica Johnson, their Rocna anchor became a lifesaver at an unexpected moment. For a recent trip to the Caribbean, they replaced a less reliable anchor with a Rocna 25, knowing it would provide peace of mind on their long journey. In November 2012, they headed inland for an overnight mooring in Florida, a fateful decision that within moments came close to destroying their Sabre 34 Targa Serendipity.
"We were trying to navigate the tricky entrance at the St. Augustine inlet when we ran aground in 8′ breaking waves," said Jessica. After two frightening hours of struggling to keep their craft afloat, they were helped to shore by TowBoatU.S. and a local search and rescue team. "Had we not dropped our Rocna, which held us into place until the tow lines could be secured, we would have lost our boat for sure."
Rocna anchors are available in fourteen sizes from 9-606 lbs., for boats 16-150′. Each is backed with a lifetime warranty, including protection against bending and deformation. Suggested retail prices begin at $152.99 CDN and $147.99 US.
Image courtesy Martin Flory Group