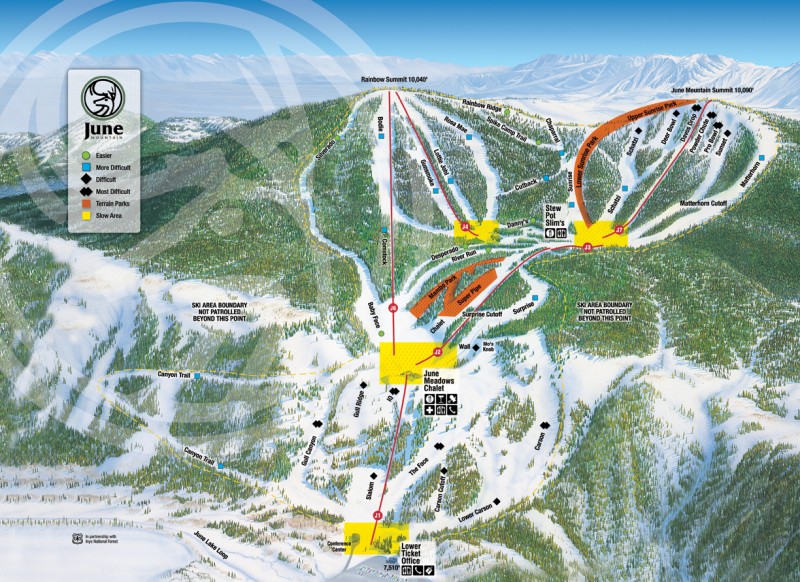 A huge makeover is in the future for June Mountain in California's Eastern Sierra.
The much-loved mountain in the Inyo National Forest by the small town of June Lake was shuttered for the 2012-13 season as its owner Mammoth Mountain wrestled with financial problems. But in November, the announcement came the mountain is scheduled to re-open next winter. Looking ahead, owners plan a six million dollar chairlift and five million dollars in snowmaking improvements for the mountain.
The man drawing local ire for June's closure is Rusty Gregory, Mammoth CEO.
"There is nothing like closing down a ski area to get people to focus on it," said Gregory last week during an interview in the Village Lodge at Mammoth wearing his signature black t-shirt and blue jeans. "First they focused on me."
Now the mountain that gets an average snowfall of 250 inches is getting some love with Gregory outlining some major points about the 35-trail ski area: open the mountain next season, replace the old J1 lift that goes up the steep front face, improve the snowmaking, and get the bed base up.
"June has a great opportunity to be very different than Mammoth," said the muscled executive who played football at the University of Washington and in the NFL with the Kansas City Chiefs.
About 20 miles from Mammoth, June is known as a family mountain and a place to go on the weekends when popular Mammoth is humming with skiers and snowboarders from southern California. Locals also laud the powder skiing.
Its closure translated to financial hardships for locals and businesses.
"June is a unique, smaller mountain," said June Lake's Double Eagle Resort and Spa owner Connie Black. "Everybody is (happy). This was devastating this season."
Gregory knows he has to regain locals' trust. During an April 9 Mono County Board of Supervisors meeting, he's quoted by the Mammoth Times as saying, "My decision has created a tremendous amount of hardship. I don't want to go through it again. People think I have a thick skin. I don't, I have a very thin skin."
Though there is still the permitting process to jump through, Gregory said the new lift will probably be a detachable quad.
But there are other options. He said the lift could be something that also has cargo loading, might be a gondola, or could even be a chondola, a combination of chair lift and gondola. The plan is to have the new lift running and snowmaking enhancements in place for the 2015-16 season.
June Mountain's summit is just above 10,000 feet in elevation with a base level of 7,545 feet. The vertical is 2,590 feet.
"June is like a European mountain where the best skiing is in the front," Gregory said.
In addition, June could see a new day care center and a bar at the mountain's base. Gregory wants to reposition June and market it as a family mountain.
"June Mountain will be relaunched as an entry-level family resort," he said.
With a limited bed base, Gregory wants to see transportation shuttling people between June and Mammoth.
"Lots of logistics need to be worked out," he said.
He said June needs 100,000 visitors a year to sustain it.
Trail image courtesy June Mountain, second image by Marty Basch