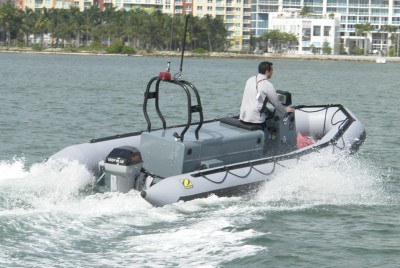 For the first time, Zodiac MILPRO is using an electric outboard system with its SRMN600 professional RIB. Torqeedo's 80 hp motor, Deep Blue, will power the vessel, which is designed for military and professional customers. The 20′ RIB is heavy-duty and needs a tough, durable motor.
"Torqeedo is a reputable brand," said Vince Palmeri of Zodiac MILPRO. "This is our first pass at utilizing non-combustion propulsion to power one of our RIBs. We believe this is only the first of many projects with Torqeedo and the beginning of a strong partnership. We hope to work with them to make the concept of Torqeedo and Zodiac MILPRO even more applicable to military and professional markets."
"We are very pleased to be working with Zodiac MILPRO, an industry leader for several decades," said Chris Carroll, Torqeedo's VP business development. "We couldn't think of a better partner to align with for the introduction into the commercial segments that they cater to."
Industrially developed and manufactured, Deep Blue is an 80 hp electric outboard powered by batteries adapted specifically for the marine environment. A powerful electric drive, it uses only high-tech components. Deep Blue is environmentally friendly and independent from the market price of gasoline. This electric outboard sets new standards in convenience, efficiency and safety.
Zodiac MILPRO boats are used in a variety of public sector applications, including military, law enforcement, fire rescue, marine patrol and first responder. Zodiac MILPRO's SRMN600 was originally built for military use, so its hull is reinforced to handle the maximum G forces applied when fully laden and powered at maximum speed. The total deck area is open and reinforced allowing installation anywhere of steering consoles, bolsters and other equipment.
The SRMN600 will be in operation and available for test rides at the upcoming Charleston Race Week, April 18-21 in South Carolina. When paired with a Torqeedo motor, this RIB is a perfect fit for yacht clubs and racing events alike.
Image courtesy Martin Flory Group