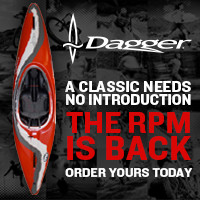 Dagger, the premier designer and manufacturer of high-performance whitewater and recreational kayaks, is bringing back its most popular kayak, the RPM, in limited production starting April 15, 2013. Recently heralded by Rapid Magazine as the "most revolutionary whitewater boat of all time," the RPM remains the best-selling whitewater boat ever manufactured.
Whatever the letters stand for – Radical Play Machine, Revolutions Per Minute, you name it – the RPM made its indelible mark on the paddling community in April 1996 when it was first released. This boat redefined the art of playboating and offered thousands of paddlers their first whitewater kayaking experience. A maneuverable, fast, versatile river runner, the RPM's displacement hull is easy to roll and excellent for carving, front surfing, and stern squirts, making it ideal for advanced and beginner paddlers alike.
For a limited time, Dagger is giving retailers and consumers the opportunity to get their hands on this old-school favorite with modern updates and safety features including Dagger's new Contour Ergo Outfitting. The Contour Ergo system offers an ergonomic thermo molded seat, a bulkhead footbrace system, adjustable hip pads and thigh braces, and unique colors combinations.
"We have heard the requests, and now we want to deliver. The Dagger team is thrilled to re-release the RPM and is excited to offer this opportunity to our loyal retailers and customers," said Jessica Wessinger, marketing communications manager for Confluence Watersports, parent company of Dagger. "This boat is a shining example of the foundation on which we built the Dagger brand, and we are proud to reintroduce one of the best kayak designs of all time into the retail market."
Dagger will be spreading the word about this limited-time opportunity through Facebook and Instagram, letting its biggest fans and followers in on the details first. If you're counting down the days until the RPM is available in stores, check with your local retailer for details on how to purchase Dagger's most legendary kayak.
Image courtesy Verde PR & Consulting