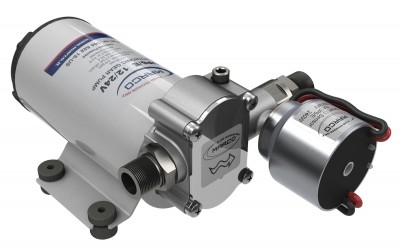 Variable speed electronic water system pumps help provide boaters all the comforts of home. MARCO electric sensor pumps from Mate USA meet fresh water pressure system pump needs on a variety of boats, including sailing boats and rubber dinghies. The range also comes in kits for deck shower and wash down applications.
Available in four models, MARCO self-priming fresh water pumps from Mate USA make fresh water readily available, with no accumulator tank necessary. The compact units fit easily into small spaces, leaving room for other devices. The pump motor's variable speed is proportional to the water demand, allowing for constant control of pressure, current and voltage. The pump quickly reaches the desired flow rate, but in a progressive manner to avoid hydraulic shock.
LED-monitored, the pump remains protected against short circuits and overloads, with no need for a fuse. A blue LED light indicates when the tank is empty. After 90 seconds, the electronic system automatically attempts a series of pump restarts, protecting the motor by stopping should a problem persist. Features such as helical PTFE gears, an integrated check valve, nickel-plated brass body and stainless steel shaft ensure the pump's dependable operation and long life.
Model UP2/E offers 29 psi at a flow rate of 2.6 gpm, takes a 7.5A fuse and has a 3.3′ self-priming hose. Model UP3/E offers 36 psi at a flow rate of 4 gpm with a 4.9′ hose. Model UP6/E offers 36 psi at 6.9 gpm with a 6.6′ hose. The two smaller models fit a 3/8″ NPT port, while the UP6/E fits 1/2″ NPT ports. UP2/E consumes 3A/1.5A, while UP3/E and UP6/E consume 5A/2.5A. All three models work with either 12V or 24V electrical systems.
The fourth model, UP12/E comes customized for either 12V or 24V. This model offers 43.5 psi at 10.5 gpm with a 9.8′ hose. The 12V style consumes 19A and takes a 30A fuse; the 24V style consumes 10A and requires a 20A fuse. Both styles fit 1/2″ NPT ports.
MARCO pumps of 6.9 gpm capacity or larger come with an optional control panel that allows management of all pump functions from the cabin dashboard. A bright LED panel makes the pump's operational status clearly visible.
Dependable, MARCO pumps from Mate USA provide years of carefree service. Retail prices for the fresh water pumps begin at $214.
Image courtesy Martin Flory Group