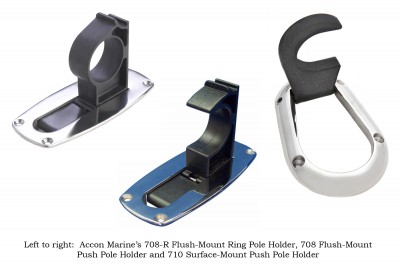 Push poles are useful for a variety of situations, from day-to-day activities to emergencies. Accon Marine's Push Pole Holders make keeping these poles in place simple.
Constructed from marine-grade 316 stainless steel and UV-resistant glass-filled nylon, both the 710 Surface-Mount and 708 Flush-Mount models are designed for years of trouble-free service. They also fold down flush when not in use to help prevent tripping. For maximum pole stability, three push pole holders are recommended.
Accon's 708 Push Pole Holder and 708-R Ring Pole Holder work together to keep a pole safely in place. A riser shim isn't needed, since the pole sits 1-1/16″ off the deck. Installation is easy and only a 4-13/16″ x 1-3/8″ hole is required for each unit. The holders attach with four #10 screws. Optional waterproofing cups are also available.
Easy to install, the 710 Flush-Mount model only requires three #10 screws. Owners simply mount the holder on the surface, no cut-outs necessary.
Owners and builders can view an installation video of the 708 model at http://www.youtube.com/watch?v=L_yH96CtR6w&feature=channel. Accon Marine's 708 Push Pole Holder has a starting price of $60.36 while the 710 model has a price of $64.29.
Image courtesy Martin Flory Group