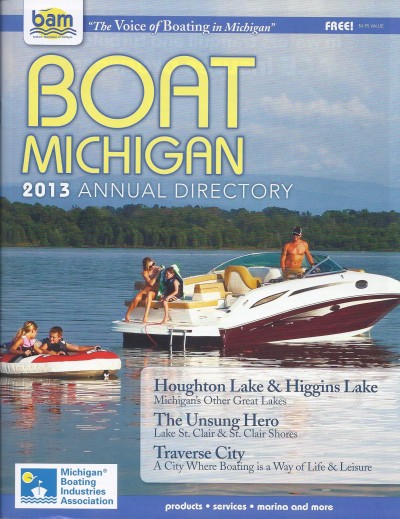 The Michigan Boating Industries Association (MBIA) is offering, free to the public, the 2013 edition of the Boat Michigan Annual Directory and a Boating Safety Information Kit.  The Boat Michigan Annual Directory is the official handout at the Detroit Boat Show, Spring Boating Expo and Boating & Outdoor Festival.  The 2013 edition features articles on great boating regions like Houghton & Higgins Lake, Lake St. Clair and Traverse City.  The publication also provides a listing and guide to Michigan State Harbors and Harbors of Refuge.  Most valuable to boaters is the comprehensive marine products and services guide covering the entire state which makes this annual directory a must keep resource for the entire season. You can also access this guide online at boatmichigan.org and mbia.org.
The boating safety information kits include information designed to help boaters operate their vessel responsibly and in accordance with U.S. and Michigan regulations. It also includes information on weather, rip tides, personal watercraft and boating green.
To receive your FREE copy call 734.261.0123, email [email protected], stop in, or write to the MBIA at 32398 Five Mile, Livonia, MI 48154. (Available while supplies last).
Image courtesy Michigan Boating Industries Association