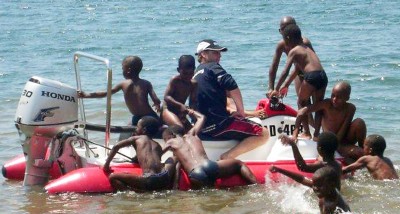 Bringing fun and excitement to the water has always been part of AquaQuad's mission. Now the company has brought that same joy to an orphanage in South Africa. To help launch awareness of Project O, which serves orphans who've lost their parents to AIDS, AquaQuad let the kids experience their CLX boat for a day of fun.
"The orphanage is located at Inanda Dam, not far from where we build our boats," said AquaQuad CEO Oliver Nudds. "Bringing our boats was part of a fun day for the children and helped create more awareness for Project O, which cares for them."
The heart of Project O's work is in helping children who have become orphans due to the AIDS epidemic. Project O plans to embrace the larger issues of community development and advocacy for the poor in its mission to help children and families build sustainable futures. Located in South Africa, it has the first 100% self-sufficient children homes in the world.
AquaQuad's Classic Extreme Sport (CLX) is a revolutionary rigid inflatable watercraft great for sport boating, recreational fishing and a multitude of utility applications. This striking boat can comfortably accommodate two adults and is easy to operate.
Image courtesy Martin Flory Group