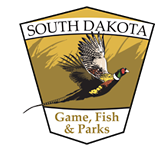 Here are the latest updates on the South Dakota State Parks reservation system:
Picnic shelter reservations open tomorrow (April 6) at 7 a.m. CT for all arrivals within 90 days. Reservations for shelters are available 90 days within arrival from this point on. Go online to www.CampSD.com or call 1-800-710-2267. Shelters can be found by selecting "Day Use" as the type of reservation.
Paying by check – Electronic Check Conversion – When providing a check as payment, you are authorizing the Game, Fish and Parks to use information from your check to make a one-time electronic fund transfer from your account. When the Game, Fish and Parks uses information from your check to make an electronic fund transfer, funds may be withdrawn from your account as soon as the same day. Check payments are not available for online reservations. Learn more about Electronic Check Conversion from the Federal Reserve Board.
The availability calendar and the ability to log in to view current reservations are in final testing, and we'll let you know as soon as they go live.
Thanks for your continued patience and feedback as we work to perfect the system.
Image courtesy South Dakota Game, Fish and Parks