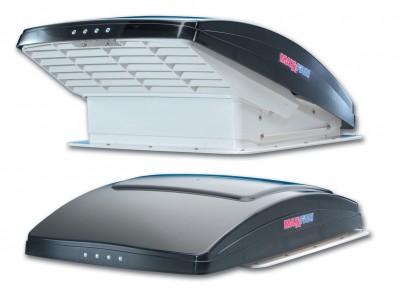 Ventilation is important in every RV to help create a pleasant and comfortable indoor environment. The MaxxFan Deluxe from MaxxAir Ventilation Solutions pushes musty air and odors out and brings fresh air in. With continuous improvement projects, the company has enhanced the performance and durability of the MaxxFan Deluxe with MaxxAir exclusives.
Fitting standard 14″ x 14″ roof openings, the MaxxFan Deluxe provides over 1,000 cu. ft. of air per minute and is equipped with a built-in rain shield. It features a powerful, 12V fan motor and 12″ diameter, 10-blade fan. The 10-speed fan can run with the lid closed to circulate air in Ceiling Fan Mode. It's available in Translucent White or Smoke Tint vent lid colors. The MaxxFan Deluxe utilizes twin lid-lifting arms to ensure no more lid fluttering in high winds or when driving. It also features a built-in, easy-to-clean interior fan insect screen.
MaxxFan Deluxe manual opening models utilize a lid opening knob that locks the lid in place. A flush mounted, easy-to-clean keypad controls fan on/off, one-touch thermostat settings and air intake/exhaust speed.
MaxxFan Deluxe electric opening models have all of the same features as the manually opening models with the addition of an electric motor to open and close the lid automatically when in the Auto mode or with the -touch of a button on the hand-held remote control. All electric opening models feature a flush-mounted keypad for fan operation in the event that the hand-held remote is misplaced. OEM installation is easy with wall controls that feature plug-and-play data cable connections.
The company recently introduced six new Deluxe fan models to meet the needs and demands of OEMs. Aftermarket models of the MaxxFan Deluxe fan have a starting retail price of $325.
Image courtesy Martin Flory Group