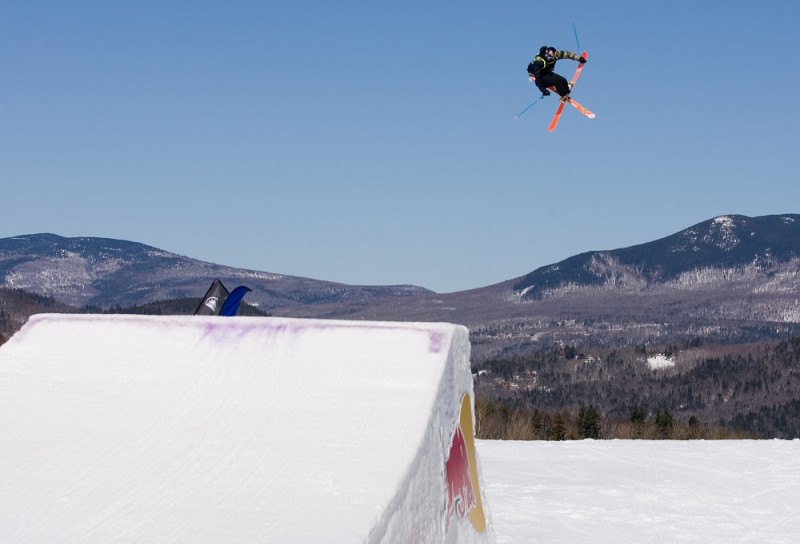 He did it as an amateur and now he's done it as a pro.
Nick Goepper, the 2013 men's slopestyle gold medalist in the X Games, continued his winning ways by notching another victory in the Dumont Cup.
The Lawrenceburg, Indiana native took home a solid ten grand after besting a bevy of top freeskiers with Gus Kenworthy second and Joss Christensen third on Saturday with bluebird skies and pleasing spring temps.
The trio were part of a group of a dozen professional skiers and nearly 80 amateur skiers who came to the slopes of Sunday River Resort in Newry, Maine to compete in the two-day fifth annual Dumont Cup—the largest freeskiing event on the East Coast and the only platinum-level slopestyle event recognized by the Association of Freeskiing Professionals (AFP).
Goepper's winning slopestyle run earned him 95 points while Kenworthy of Telluride, Colorado received 92.7 points, and Park City, Utah's Christensen garnered 91.7 points.
"So hyped to win the Dumont Cup today!" Goepper tweeted afterwards.
Goepper won the 2011 Dumont Cup as an amateur.
"The run I did I was super happy with," Goepper told Freeskier magazine.
Goepper's run consisted a switch 270 on, pretzel 270 out of the down rail; a switch 270 on, misty 450 off the cannon; a switch bio 9 double Japan; left dub 12 blunt and a switch dub misty 12 mute, the website reported.
"We couldn't have asked for a better weather day," said Goepper. "I love coming out here in the spring, it's always a really fun contest and I'm really excited to come back next year."
The three top skiers were the same as last year, though in a different order. Last year Kenworthy won it all with Goepper second.
Kenworthy said he was stoked that it was the same podium as last year but in a slightly different order.
Christensen said he couldn't be more happy about his result.
"The course was super sick this year, bigger than it's been in the past," he said. "The jumps were bigger there almost above the chair level here. That tells you something."
The Dumont Cup was founded by X Games gold medalist and 2014 Olympic hopeful Simon Dumont, who grew up near Sunday River.
Dumont first hit the slopes at age three and hasn't looked back, first competing in the Winter X Games at the early age of 14. He's gone on to win a ski boot full of medals while also taking his sport to new heights in April 2008 when he set the world record for height on a quarterpipe at Sunday River, soaring an incredible 35 feet out of the pipe for a total of 73 feet in the air.
Dumont's no stranger to injury either. He's had some notable mishaps including walking away after overshooting a jump in 2005. But, within minutes, it was discovered that he suffered severe internal bleeding, a ruptured spleen, and a fractured pelvis. Never one to let an injury get in his way, within two months the resilient Dumont was back on the slopes and competing.
This season was no exception. He competed without ski poles after injuring both wrists.
During a January phone interview prior to the Winter X Games in Aspen, he said he was looking forward to the Dumont Cup, which he said has "a great hometown feel." He said it was a unique event where amateurs can not only compete against professional skiers but also ask them questions.
He also had made it clear was his goal is for 2014.
"I don't want to miss the Olympics," he said. "I want to stay injury-free, learn a bunch of new stuff, and be ready."
Images courtesy Sunday River Resort