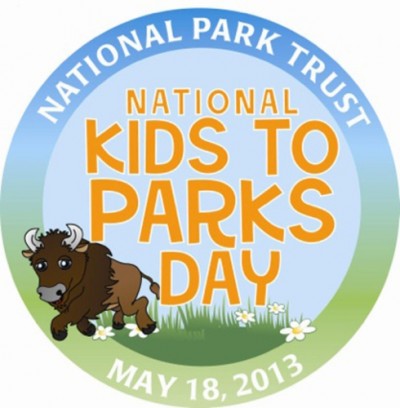 The NFL Players Association (NFLPA) and National Park Trust (NPT) have joined forces to promote this year's National Kids to Parks Day scheduled for Saturday, May 18th .  The NFLPA will join 17 national collaborators supporting the Third Annual National Kids to Parks Day. 
Last year more than 108,000 kids and families participated. In addition, 260 mayors in 45 states andWashington D.C. and eight state governors issued proclamations, a U.S. Senate resolution passed declaring National Kids to Parks Day, and more than 250 events were held across the United States.  With the help of high profile national partners like the NFLPA, National Park Trust hopes to double participation in 2013. Families can join the fun, find events, and sign up online at NPT's web site www.kidstoparks.org. They can also find events by visiting www.facebook.com/nationalparktrust.
"Our players have a special affinity for public parks and know how important it is for children to enjoy and play outdoors," said Jason Belser, NFLPA Senior Director of Player Affairs and Development. "We are proud to join National Park Trust and its impressive list of national partners in promoting National Kids to Parks Day."
National Park Trust's 2013 National Kids to Parks Day is officially in support of the First Lady's Let's Move Outside! initiative and NPT's 2013 collaborators include: the American Academy of Pediatrics, President's Council on Fitness, Sports & Nutrition, America's State Parks, Department of the Interior's Youth in the Great Outdoors, National Park Service, National Recreation and Park Association, U.S. Army Corps of Engineers, Boy Scouts of America, National Education Association, National Geographic Kids, American Hiking Society, Children's National Medical Center, Children & Nature Network, U.S. Play Coalition, National Environmental Education Foundation, National Wildlife Federation, and National Park Hospitality Association.
Recognizing that young people spend far too much time indoors and far too little time appreciating and preserving America's magnificent national, state and local parks, the National Park Trust is mobilizing kids across the country for a nationwide park play-in. The website, www.kidstoparks.org, is interactive with links to park activities nationwide and provides a toolkit of ideas and activities for children, families and educators.
"National Kids to Parks Day encourages children across America to get out and play. This simple idea of playing in a park can potentially give millions of kids the reason to get active and get outside just as families prepare for summer," said Grace Lee, executive director of National Park Trust. "In one year, participation has tripled with children, families, educators, and elected officials jumping in to support parks and coming together in joyful and active outdoor fun. We want kids to love our parks and be empowered to protect and preserve them!"
National Kids to Parks Day is the signature event of NPT's popular educational program Where's Buddy Bison Been?® . Through its mascot Buddy Bison, NPT encourages children to "Explore outdoors, the parks are yours!". Forty-four schools in 15 states and Washington, D.C. participate in the Buddy Bison educational program, which includes classroom resources, lesson ideas and fully funded park trips.
In 2012 NPT launched the National Kids to Parks Day School Contest. This year NPT will award scholarships to 42 classrooms benefiting 1683 children, grades preK through 12th in 21 states, to put their ideas into action to visit, learn and play in their local, state and national parks and celebrate the day.
Families can sign up to participate at www.kidstoparks.org. When they visit a park on May 18th, kids can tweet #kidstoparks or send in photos to [email protected] to have their pictures posted online on a national map commemorating the day. Also available online and on Facebook is a listing of park events across the country.
Image courtesy NATIONAL PARK TRUST