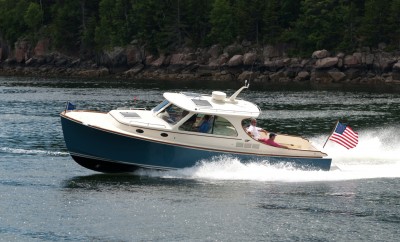 Drop-dead gorgeous looks make the Hinckley Company's newest model, the T34, easy on the eyes. But just as important, this jaunty jetboat offers effortless power, thanks to twin Yanmar 260 mhp diesel engines and Hamilton jet drives. Equally suited to angling in secluded byways, towing kids on a tube or cruising the harbor at sunset, the versatile T34 promises to become any boater's go-to craft.
With a draft of a mere 22″, this boat allows her owner to leave the crowd behind and navigate into shallow areas. Equipped with Hinckley's patented joystick-operated JetStick, the T34's integrated steering control permits simple, yet precisely controlled maneuvering and docking.
Beneath the T34's deck lie twin Yanmar 6BY3-260 engines, the secret behind her exhilarating power. "When we choose an engine for one of our boats, we look for power density, durability and smoothness. The Yanmar BY delivers on all three counts," said Mike Arieta, Hinckley's vice president and COO. "These engines provide the command and refinement that boat owners expect in a Hinckley product."
Known for their smooth acceleration and clean-running power, Yanmar diesels allow the T34 to reach a maximum speed of 32 knots at wide open throttle.  At a cruising speed of 26 knots @3,600 rpm, fuel
consumption is 21 gph. Twin Hamilton 242 jet drives also contribute to this boat's unparalleled speed, moving her from idle to plane in less than 3 seconds.
As expected from a Yanmar diesel, the direct injection, common rail 6BY3-260 engine is reliable and economical. It's also compact and lightweight, with a dry weight of only 694 lbs. Features include Yanmar's own CAN-bus vessel control system, with a multi-function LCD display to simplify engine, maintenance and diagnostic information.
Yanmar engines are distributed in the Northeast and Midwest U.S. by Mack Boring and Parts Company of Union, New Jersey. "We've worked with Mack Boring for over a decade. We can count on them to support us and our customers," said Arieta.
The Hinckley Company, which also equips its popular Picnic Boat MKIII with a Yanmar diesel, has experienced enthusiastic customer response to the new T34. "In most cases, if boaters are able to experience the Hinckley T34 in a sea trial, they wind up owning one," said Roe O'Brien, Hinckley's director of marketing. Information about the Hinckley T34 can be found atwww.hinckleyyachts.com.
Contact Yanmar America, Marine Engine Division, 101 International Parkway, Adairsville, GA 30103. 770-877-9894. [email protected]
Image courtesy Martin Flory