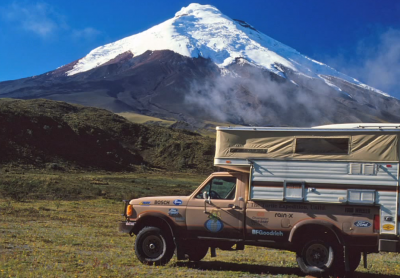 Or at least halfway there. According CBS 13 Sacramento, Gary and Monika Wescott plan on driving their modified Ford truck camper to Baltimore, shipping it overseas to Germany, and then driving it across as many as 26 countries, ending their journey in China.
The couple describes their marriage as one built on teamwork and loving companionship. Gary and Monika share a love of camping, the outdoors, and globe-trotting. A blog managed by the couple recounts adventures like hiking the John Muir Trail, touring Switzerland by RV, and exploring Chihuahua's backroads. Perhaps their most strenuous trip was traveling across Siberia, breaking records as the first foreigners to do so, but the couple plans on taking it much further this time.
"I don't take the trip; the trip takes me," said Gary. "So we never know for sure where we're going to go or who we're going to meet." He plans on spending at least a month in every country on their journey. The campers will be revisiting some familiar places, like Turkey, along with rare new ground. After nearly 40 years of traveling together, very few unexplored territories remain.
"In over 38 years we've rarely had a serious problem," said Monika. "It's like the poisonous snakes and insects of the Amazon. You know they're out there, but you still go into the jungle. The essence of an adventure is not knowing how it's going to come out."
The two share duties in managing The Turtle Expedition, Unltd. Like the animal that carries its home on its back, the Wescotts are feeling a little cramped after years of living out of a camper, but are still enjoying–nearly–every minute of it.
Image screenshot of video by OverlandExpo on youtube