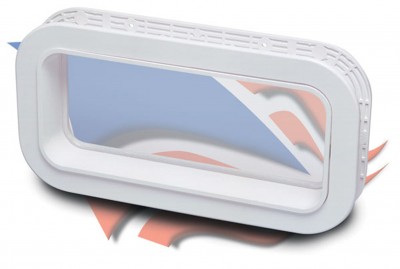 Bringing more light into a boat can create a more cheerful environment and make a small space look bigger. To help increase the amount of natural light aboard, boat owners can install Beckson Marine's Newport Fixed Ports. Non-corroding and watertight, they avoid condensation.
Newport Fixed Ports and Newport Opening Ports share the same mounting hole sizes and overall frame specifications, so they are interchangeable. The ports are designed for areas where interior bulkheads, shelves or other restrictions may prevent the installation of an opening port. Standard construction provides for the fixed port to be installed from the interior, with the trim ring on the exterior, to maintain the same recessed aesthetic appearance as Beckson opening ports.
For special installations such as cockpit bulkheads, to simplify installation, or where the same look is not required, Newport Fixed Ports can also be constructed for reverse installation, with the trim ring on the interior. This will eliminate any pooling of water on the exterior. This unique design feature also permits thermo-pane construction for air-conditioned vessels or extreme environments.
Beckson Marine's Newport Fixed Ports have a starting price of $80.
Image courtesy Martin Flory Group