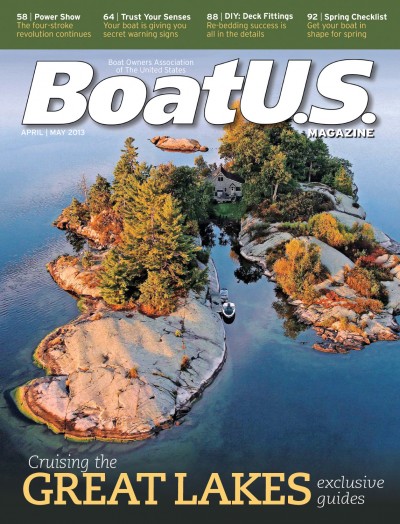 This month's special issue of the award-winning national boating publication, BoatUS Magazine, celebrates the Great Lakes, and all this spectacular region has to offer boaters – both those who live there, and those who plan to visit.
"The Great Lakes is renowned as one of the most spectacular boating destinations in the world, known for the beauty and diversity of the boating experiences these inland seas and archipelagos have to offer," said BoatUS Magazine Editorial Director Bernadette Bernon. "For our April issue, we gathered top writers from each of the lake states, and invited them tell our over half a million readers about some of the most dramatic places to explore by boat. This is a real insider's guide."
Stories include:
The Thousand Islands, One Island at a Time, by Kim Lunman, who describes how a nautical hitchhiker took a summer rental that transformed her into an experienced boat owner, and how this magical archipelago went on to change her life.
The Insider's Guide to the North Channel, by Northern Michigan native Marty Richardson, who has logged more than 20,000 miles in a trawler and put together an exclusive BoatUS list of favorite boating destinations, anchorages, and other not-to miss experiences in the Great Lakes – including how to navigate the fiord-like passage of Baie Fine.
Summer School on Lake Michigan, by Kevin Walters, who describes his family's favorite boating destinations along a 1,000-mile, three-month exploration of Lake Michigan with his wife and two young daughters, turning the family's boat into a classroom.
A Walk on the Wild Side by Marty Richardson highlights the author's two-week sojourn on Isle Royale, one of the least visited and most remote National Parks.
Also included is information on the 200th Anniversary reenactment of the Battle of Lake Erie, and Ohio's new $2.5 million Middle Bass Island State Park marina with 250+ slips for transient boaters; and trip planning information and firsthand advice from the Great Lakes Cruising Club.
To get a complimentary copy of the full-color issue sent to you, or a quantity sent to your club or marina via US mail, BoatUS welcomes boaters to call 800-395-2628. Or, if a digital issue is preferred, one will be emailed to any boater who visits www.BoatUS.com/getmagazine.
Image courtesy BoatUS