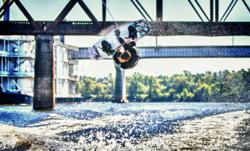 Wakeboard is heading back to the Red River for this year's Collegiate Wakeboard National Finals, May 24-26, at Riverview Park in downtown Shreveport.
The officials at USA Wakeboard cited the warm reception and hospitality they received at the USA Wakeboard South Central Regionals, held in Shreveport-Bossier last October, as the reason for their return for this year's event.
httpv://youtu.be/kdtlNUqmFZ4
Wakeboarding is a fast-paced, outdoor, surface watersport, which involves riding a wakeboard over the surface of a body of water at a high speed, while executing stunts without falling. The finals are set to compete with 16 teams, each with seven riders per team for a total of 112 riders working their way through seven different heats. Admission is free for spectators.
"In October there were 122 riders in attendance from 11 teams and close to 1000 spectators over the course of the weekend," said Nick McDonald, Director of Collegiate Wakeboarding. When asked about attendance projections McDonald added, "…with Mudbug Madness, Memorial Weekend and it being nationals, I'm anticipating about 5,000 to 7,000 spectators over the course of the three days."
This event coincides with the 30th Annual Mudbug Madness Festival, one of Louisiana's largest and most popular crawfish festivals. The four-day festival is held each Memorial Day weekend. There will be Cajun, zydeco, blues and jazz music, and mouth-watering food such as a boiled crawfish, crawfish etoufee', seafood gumbo and much more.
Mudbug Madness is nationally recognized as one of the Southeast Tourism Society's Top 20 events, and draws as many as 56,000 people in one day. Festival-goers attending will have an opportunity to be immersed in Louisiana culture, lively music, and great food, all within walking distance of the event.
This year the wakeboarding event will add to the Mudbug Madness experience and spectators can watch the competition and enjoy the festival.
Image courtesy Shreveport-Bossier Convention & Tourist Bureau