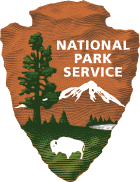 The National Park Service and the National Park Foundation invite everyone to get to know their national parks during National Park Week. This year's dates are April 20 – 28, with free admission to all national parks April 22 – 26.
"This year's theme, 'Did you know…' provides a fun way to discover the wonders of America's national parks," said National Park Service Director Jonathan B. Jarvis. "For example, did you know that there are national parks in 49 of 50 states? Did you know that national parks include seashores, battlefields, and historic homes? Did you know that the country's highest peak, lowest point, tallest tree, deepest lake and longest cave are in national parks? Did you know that you probably live within an hour or two of a national park? National Park Week is a great time for all Americans to visit a nearby national park to camp and hike, watch wildlife, stroll a Civil War battlefield, and connect with our heritage and each other."
National Park Week is also a good time to explore local parks, trails, and architectural gems sustained through National Park Service programs such as the Rivers Trails Conservation Assistance program and the National Register of Historic Places.
The annual celebration includes special events such as Junior Ranger Day on April 20 and Earth Day on April 22. Find a list of ranger-led programs and plan your adventures atwww.nationalparkweek.org. You can also use the website to share your park experiences and photos and help support parks.
"National Park Week is a perfect time to celebrate America's best idea – our national parks," said Neil Mulholland, President and CEO of the National Park Foundation.  "We are proud to stand with our partners at the National Park Service in presenting this annual event and hope everyone takes advantage of this opportunity to enjoy and support these outstanding places."
Image courtesy National Park Service