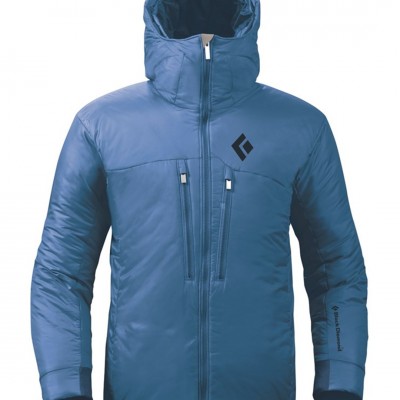 Pertex, designer and manufacturer of high-performance fabrics, is pleased to announce its Fall 2013 textile partnership with Black Diamond. The much anticipated new apparel line will feature Pertex Eco Quantum, Microlight and Classic fabrics to create light, wind resistant and water-repellant, high-performance products for mountain sport enthusiasts.
"Pertex is honored to partner with Black Diamond for its premier apparel line," said Steve Laycock, brand manager, Pertex. "The entire insulated portion of the collection features Pertex's lightweight fabrics."
The Black Diamond apparel line is broken up into three collections featuring apparel for every adventure. All seven pieces in the insulated collection feature PrimaLoft synthetic insulation and Pertex fabrics for lightweight performance in the elements.
The Fall 2013 Black Diamond pieces featuring Pertex fabrics include:
The Access Hybrid Hoody, Access Hybrid Jacket and Access Hybrid Vest – The Access trio were developed with a hybrid fabric combination that brings the durability of rip-stop and the agility of stretch panels. Featuring Pertex Eco Quantum, the brand's lightest fabric offering known for it's incredible strength to weight ratio. This fabric, made from recycled materials, provides superior tear strength and seam strength, making it ideal for use in outerwear like the Access Hybrid pieces that are tested to the limits. SRP: $249, $219, $169
The Stance Belay Hoody and Stance Belay Jacket – Easily compressible for quick packing, the lightweight Stance duo is travel and adventure friendly. Featuring Pertex Microlight fabric, which offers a dense weave preventing excessive heat loss through the fabric, the hoody and jacket provide warmth without adding weight. Windproof and water-repellent, the ultra-durable Pertex Microlight is used in many insulated apparel pieces around the world.  SRP: $229, $199.
The Stance Belay Parka and Stance Belay Pant – This jacket and pant combo are go-to pieces for the coming winter season. Constructed from PrimaLoft Synergy sleeping-bag insulation for maximum warmth in the lowest of temperatures and featuring Pertex Classic, the basis of Pertex technologies. Pertex Classic is made with a special proprietary weave and through capillary action technology the fabric moves moisture away from the body while offering excellent weather protection. SRP: $299, $189.
The Black Diamond apparel line was recently unveiled at Outdoor Retailer Winter Market 2013 and will be available at retail this coming Fall. For more about Pertex fabrics, visit www.pertex.com.
Image courtesy Verde PR & Consulting