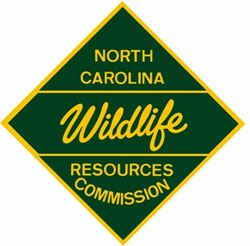 The N.C. Wildlife Resources Commission has completed renovations to the Sawpit Landing Boating Access area in Pender County, and it is now open to the public.
Wildlife Commission staff replaced the boat ramp, installed a floating dock and improved the parking area. They also made the site accessible for the disabled.
"Sawpit Landing is located on the Northeast Cape Fear River, and will offer access for anglers, boaters and wildlife watchers," said Tommy Hughes, coastal area eco-region supervisor. "Anglers can fish for largemouth bass, panfish and catfish, and wildlife watchers might see alligators, beavers, waterfowl, neotropical migratory birds, turkeys and white-tailed deer."
Construction of the site was funded with motorboat registration fees and Sport Fish Restoration funds. Visit the Commission's boating web page for more information on boating in North Carolina, including an interactive map of more than 200 public access areas across the state.
Logo courtesy North Carolina Wildlife Resources Commission