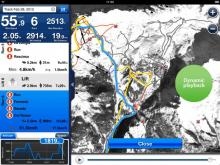 Track your day skiing, then sync to your tablet and enjoy dynamic playback later!  Re-live your favorite runs on the bigger screen!
Our latest update (4.2) just released includes iPhone 5 optimization.
Navionics Ski Apps for both Apple and Android take skiing to the extreme.  The best features to plan your ski trip. Enjoy tracking, routing, snow reports, and resort maps, along with the largest database of ski resorts available.
A recent review sums it up… I installed the app in October 2010 and I wrote a review with 5 stars.  I said that the developers couldn't have done a better job. However, today I downloaded the last update and I was proved wrong once again by the Navionics team. The new Playback feature optimized for iPad is just fantastic! While you review your saved tracks, the names of runs and lifts will flash on the map.
Image courtesy Navionics