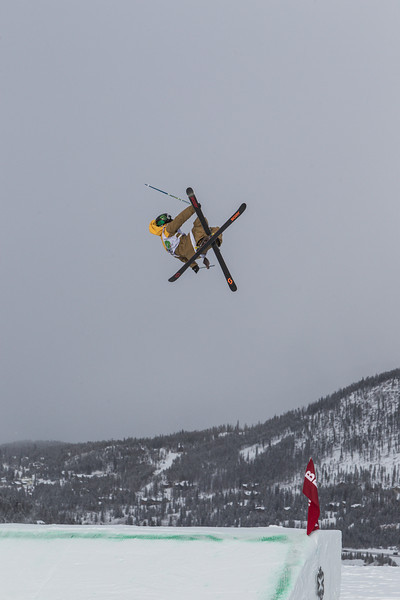 A nagging knee injury couldn't ground jibmeister Tom Wallisch as the 25-year-old skied to gold in his first FIS Freestyle World Ski Championships in Voss, Norway.
The victory was the best finish of the season for the slopestyle skier who got his start as a groom, building and hitting jumps on a bunny hill in his native Pittsburgh.
Wallisch qualified fifth in his heat and was in the laid after his first run. He scored an outstanding 94.8 on his winning second run on the course's giant features Saturday.
"In the second run I was stoked, I was in first already and I was pretty happy with my first run so I just wanted to step it up and make it a little more difficult on the rails and switch up my grabs to make it more technical and smooth overall, he said. "It ended up working out. I was already so happy to be where I was so it was easy to put down a run—no pressure."
British skier James Woods took second while fellow U.S. Freestyle Ski Team member Nick Goepper of Lawrenceburg, Indiana landed on the podium with a bronze. It was Goepper's first World Champs appearance too.
Wallisch said with everyone coming after him it made him nervous.
"In slopestyle anyone can win any day of the week so you always have to be worried when those guys are dropping in," he said.
Last season was the year Wallisch burst out on the international freeskiing stage with an X Games gold in Aspen, Euro X silver in Tignes, France and first as the overall winner of the Dew Tour. He was also named ESPN Action Sports Athlete of the Year.
Prior to the Worlds, Wallisch competed in a January World Cup at Colorado's Copper Mountain with disappointing results.
When not on snow, Wallisch attends the University of Utah, working on a marketing degree. He also wakeboards, skates, and mountain bikes.
In January, Goepper at age 18 won his first X Games gold medal in Ski Slopestyle. He grew up skiing at a mountain with just 400 feet of vertical.
"It was an amazing World Championships with the energy of the upcoming Olympic Games in Sochi being on everybody's minds, Goepper said. "It was especially great to have two of the three podiums with the U.S. Olympic hopefuls standing on them, myself and Tom."
Gus Kenworthy of Telluride, Colorado finished sixth while reigning World Champ Alex Schlopy of Park City, Utah crashed in both of his runs on the the massive slopestyle course that had some of the biggest features athletes had ever seen. There were many crashes.
Salt Lake City's Grete Eliassen swiped bronze on the women's side won by Canada's Kaya Turski.
The third place finish was Eliassen's first World Champs slopestyle podium and her best finish of the season.
"Getting first place in qualifiers was such a confidence booster for me going into finals," she said. "Ending up in third was perfect. I am coming off an injury. It's so nice to come back."
She says the U.S. Ski Team has been backing her to get into the gym and train.
It's amazing to ski again," she said. "I'm half Norwegian and half U.S. and I am riding for the U.S. It's exciting to be here in Norway especially because I learned how to ski here. It's fun to be back here and have a huge crowd cheering all of us on."
Image by Mark Epstein/USSA