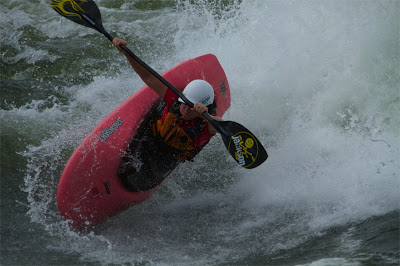 All Jackson family paddlers now representing Kokatat
Kokatat is pleased to welcome world champion freestyle kayaker Emily Jackson to Team Kokatat, joining her brother Dane and father EJ on the team. The Rock Island, Tennessee native is a two-time World Freestyle Kayak Champion.
Kayaking has taken me to some of the most amazing corners of the world and inspired me to consistently work to improve my skills," Emily said. "I've long been a fan of Kokatat gear and I am really looking forward to joining the team and representing the company."
Emily joins Kokatat's elite lineup of whitewater and sea kayaking athletes dedicated to promoting paddlesports through safe and clean water initiatives. Not only a champion paddler, Emily is a generous humanitarian having raised $30,000 for Soft Power Health through a combination of her own prize money and fundraising over the past three years. Soft Power Health focuses on the prevention and treatment of malaria at the headwaters of the Nile.
This spring, Kokatat introduced the Kokatat Jackson Collection. The collection, which includes the Maximus PFD, GORE-TEX Icon dry suit and Legend dry tops, was created in collaboration with Emily's father, whitewater kayaking icon Eric "EJ" Jackson, and her brother, reigning Junior Freestyle Kayak World Champion Dane Jackson. The Kokatat Jackson Collection is easily recognizable with its bold colors and details like fresh graphics and denim blue striping.
"We're thrilled to welcome Emily to Team Kokatat," said Jeff Turner, Kokatat sales and design manager. "Our collaboration with her family has resulted in a truly unique collection that pushes the limits of our design innovation and we're sure Emily's insight will be invaluable as we continue to improve the collection and all our products."
Image courtesy Pale Morning Media