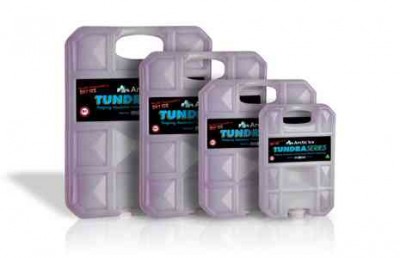 Arctic Ice is proud to introduce its Tundra Series freezer panels to the outdoor enthusiasts who demand ice cold performance in their coolers! Arctic Ice Tundra Series is a unique phase change material, derived from plants, that provides an excellent alternative to dry ice without the danger or waste of dry ice. Furthermore, Tundra Series will ensure your catch makes it home fresh frozen, ready for your freezer. Now you can eliminate the expense or hazard of dry ice or dealing with standard "gel" packs that never worked that great anyway.
Advantages of Tundra Series
Prolonged Frozen State – Tundra Series' unique ability to maintain its frozen state while absorbing surrounding heat allows it to keep your frozen items frozen solid. Results are comparable to equal weight of dry ice.
Environmentally Responsible- The active ingredient in Tundra Series is derived from oils of plants, not petroleum products or caustic salts, and is completely biodegradable.
Re-Usable- The active ingredient in Tundra Series has been tested for up to 100,000 freeze thaw cycles without any loss of effect. Additionally, Tundra series comes in a dishwasher-safe, highly durable HDPE container designed for a lifetime of use. Containers are also recyclable.
No Mess – Ice melts into a wet mess, potentially damaging bait or food in your cooler.  Tundra Series keeps your cooler super cold and dry!
No Shipping Restrictions – unlike dry ice, Arctic Ice Tundra Series can be shipped in any amount without a hazardous material up charge.
Customization – We can customize any type container for our customers, if you can dream it, we can build it!
Why Arctic Ice Tundra Series is Better Than Dry Ice or Gel Packs:
Tundra Series active ingredient is environmentally responsible, made from oils of plants, it contains no petroleum products, no caustic salts, and gives off no CO2.
Tundra Series can maintain frozen temperatures (-15°C) without risking freezer burn, dry ice is around -60°C and could "burn" contents of package.
Tundra Series has been tested and shown results comparable to equal weights of dry ice yet can be used thousands of times without loss of effect.
Tundra Series does not give off any greenhouse gases and is completely biodegradable.
Tundra Series is packaged in a HDPE container made from recycled plastic.
Tundra Series panels contain no caustic salts or petroleum that could harm fish, food, or any metal with which it has contact.
Tundra Series panels are dishwasher safe, can be stored in a freezer or in ambient temperature settings until needed.  Simply charge the panel in a freezer at 0° for 24-36 hours.
Image courtesy Arctic Ice