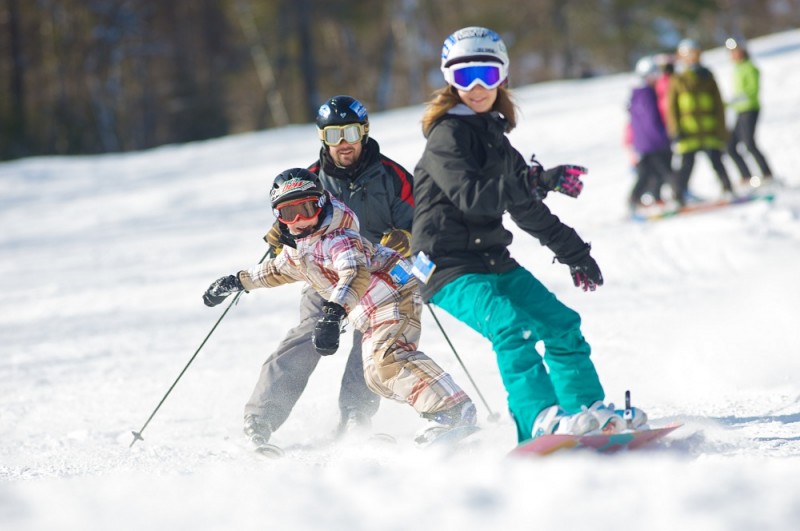 The not-so secret is out—Pats Peak is expanding.
The mom and pop ski area about 20 miles west of the state capital of New Hampshire is installing a new triple chairlift and about a half dozen-trails and glades over the next three years.
Dubbed "Operation Cascade Basin," the new terrain opens up a new section of the Henniker ski area that hasn't been skied before—at least officially.
"Pats Peak has been locally owned and operated by the Patenaude family for 50 years and we wanted to do something really big. We wanted to give all of our patrons a giant birthday gift," said Pats Peak general manger Kris Blomback.
The Pats Peak faithful have been talking about this expansion for some time and any one of them who found their way to Blomback's office would have seen those plans, readily spotted by visitors.
The operation has been in the planning and permitting stage for the last two years and received its final permits in autumn.
This summer crews will be working on cutting four new trails and glades and installing a high-capacity triple chairlift in the basin with its easterly exposure.
If all goes to plan, another trail will open for 2014-15 and then two in 2015-16.
Pats Peak is a small 23-trail ski area with about 700 vertical feet. It's a place to learn to ski, a feeder hill. In the afternoons, school buses filled with children come for after-school programs.
Four nights a week at night, the highly competitive, wannabes, and those just out for a good time fly down a race course before hitting the Sled Pub for a friendly pint flavored with beer league bragging rights. You might even run into a "Skiing Cochran," an area family that's produced a number of Olympic skiers.
Owned by Wayne and Sally Patenaude, the ski area was hatched in 1963 when the four Patenaude brothers—Joe, David, Wayne and Stuart—became ski developers by clearing trails, cutting trees, burning brush piles and bulldozing stumps.
The four ranged in age from 22 to 29, working in family-owned farming and construction businesses.
The story goes that David, the second oldest, bought the land because he wanted a little ski area. Only a woodlot at the time, tales are told of David and a friend hiking up and skiing between the trees when the hill was in its natural state.
The hard-working brothers were also proud. They enlisted the advice of legendary Dartmouth and Olympic skier Sel Hannah, a pioneer ski developer. He told them the spot was bad. Don't do it.
The reaction?
"Waste of a hundred dollars hiring him," said a brother.
Its slopes have been a launching point for Olympians from another era like Holly Flanders and Pam Fletcher. Hometown heroine and action sports skier Kristen Ulmer used to ski there.
Of course, there are also the huge M&M cookies bigger than a child's face that has been a staple there for nearly as long as the area's been open. Ask Guy Pelletier who runs the cafeteria kitchen how many they make a season and he'll admit to 25,000. They sell for $2.75 each.
But it's all about skiing and riding. Blomback says the new trails will be for novice and intermediate skiers and snowboarders. The glades will be expert.
"We've experienced tremendous growth over the last few years and we wanted to do something to give back to our guests. It's very important to keep our product exciting and fresh. Opportunities available in the future in the new area include the possibility of an additional terrain park as well as expanded night skiing," he said.
Images courtesy Pats Peak