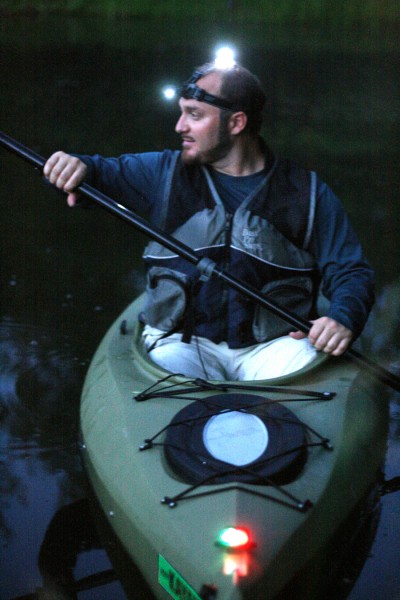 Illumarine H2B: All-in-one Sportsman's Headlamp & Kayak Light System
The Illumarine H2B (Head-to-Boat) is a new, patent pending, LED light system specifically designed for paddlers, boaters and sportsmen. At first glance the H2B looks like other headlamps, but you quickly realize how versatile this little system is. The main light detaches from the head strap and attaches to your boat using the included mounting bracket. Once securely attached, you can choose between three settings: WHITE constant, RED / GREEN constant and, for emergency situations, RED / WHITE / GREEN flasher.
Illumarine has integrated multiple LED lights and safety features into the adjustable head strap to help you see, be seen and be heard. The front bracket houses a small Cockpit Light that provides ample brightness to perform tasks in and around your boat. The twist-on operation is easy to operate—even with gloves on— making it convenient to change a lure without killing your night vision.
A third light on top of the head strap ensures you will be seen from 360 degrees. This bright all-around top light not only functions as your stern light, but also has two emergency flasher settings. A large push button makes it easy to switch on.
Need to make some noise to get attention? Use the whistle buckle located on the back of the head strap. This 100 dB noisemaker is always close by when it's needed. This whistle buckle also makes it easy to wrap the strap around a fixed object such as a sailboat mast or tree at the campsite.
Illumarine has made it easy, affordable and more practical to be bright and safe on the water in all low-visibility conditions. This system is a must-have for anglers and recreational paddlers as it meets or exceeds USCG regulations for kayaks, canoes and other small craft. Being easily stored and deployed, the Illumarine H2B is also the perfect emergency light for all boats. It is a unique, easy and affordable way to ensure increased safety on the water. The bottom line is if you own a PFD, you should own an Illumarine H2B. It will help you see the hazards, not be one.
Illumarine H2B MSRP $39.99
Image courtesy Illumarine