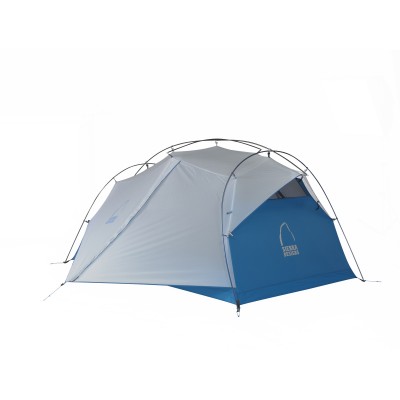 Ultralight, roomy, and dry thanks to ExoFusion external pitch technology, the Flash 2 is honored with the industry's most coveted award
Sierra Designs is proud to announce the Flash 2 tent is a 2013 recipient of Backpacker Magazine's prestigious Editors' Choice Award in recognition of the tent's outstanding design, performance, and ventilation.
Blending the light weight and simplicity of a single-wall tent with the ventilation and weather protection of a double wall tent, the Flash 2 impressed editors with its quick set up and comfortable living space. The Flash 2 achieves this impressive blend of performance attributes though Sierra Designs' ExoFusion technology. ExoFusion combines an external pole configuration with an integrated rain fly to cut weight, speed set up, enhance ventilation, and increase interior space.
"When it comes to outdoor gear, the editors at Backpacker Magazine are some of the most knowledgeable, experienced, and respected in the industry, so receiving and Editors' Choice Award carries a lot of weight," said Michael Glavin, VP of Sierra Designs. "Winning this award showcases Sierra Designs' continued commitment to innovation and a new direction for the brand which strives to achieve light weight without sacrificing comfort and convenience."
When it came to the Flash 2's ventilation, Sierra Designs drew on an extensive history of tent design to create a dry, comfortable living space. In-house testing confirms the Flash 2 vents far better than other shelters with a similar market position. Here's what Backpacker had to say:
"Tent designers have long used single-wall designs to cut weight, but the tradeoff has often been steam-room-style condensation. The Flash 2 solves the problem with a hybrid single/double-wall construction that maximizes ventilation and provides surprisingly livable features for a sub-four-pound tent."
Thanks to ExoFusion's integrated rainfly, smartly designed vestibules, and superior ventilation system, the Flash 2 also impressed editors with its ability to deflect stormy weather. One tester noted this tent's ability to set up dry even during a thunderstorm in Oregon's Eagle Cap Wilderness while other testers stayed dry on an overnight in Vermont during Superstorm Sandy.
Backpacker editors were also impressed with the Flash's two 8-square-foot vestibules, saying they provided a "lavish space gear storage and cooking."
An authority on outdoor equipment, Backpacker prides themselves on thorough gear evaluation in real-world situations.
"Backpacker gear reviews set the benchmark by which all others are measured," said Editor-in-Chief Dennis Lewon. "That's because no other magazine or website conducts field-testing as rigorously or impartially as the crew led by highly respected Gear Editor Kristin Hostetter. Under Kristin's leadership, they put new products through punishing real-world abuse in the toughest terrain and worst weather. The result? Best-in-class reviews that lead consumers to best-in-class gear."
Featured in the April issue along with only 13 other Editors' Choice Award winners, the Flash 2 tent shares space with a very limited selection of this year's top gear.
Image courtesy American Rec