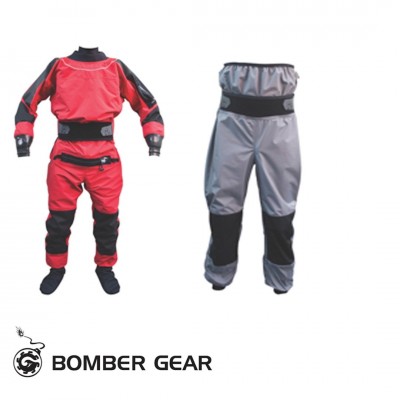 Bomber Gear today announces the release of their Bomb Dry Suit and Dry Pants to retail. The brand's expert designers continually strive to create durable and reliable gear to keep paddlers warm, dry, and comfortable, and these new additions to the product line are a bomb-proof extension of that goal.
Ergonomically designed for superior comfort and fit, these technical pieces feature articulated arms for maximum range of motion, and the pants are cut with an intimate knowledge of how paddlers sit below deck. Bomber Gear is committed to making technical outerwear that is more comfortable, more water resistant, and more practical than any other comparable items on the market.
When you're consistently pushing limits, you require a little extra armor (and then some). That's why our high-end, 4-layer Bomb Dry Suit features reinforced shoulder panels and abrasion-resistant oxford nylon on the seat, knees, shins and elbows. And because staying dry and warm isn't so bad either, we've incorporated the same highly durable Bomber Gear gaskets, our unique double-stitched, taped and patched seams and the same breathable Toray 4-ply Entrant HB fabric as what is used on the revered Bomb Dry Top. Other unique features include a hidden emergency whistle, glass bead reflective piping, a sleeve pocket with a drain, a reflective screen print logo, layered socks with reinforced bottoms and a dual-adjustable overskirt with rubber closer flaps. A convenient TiZip zipper across the shoulders and waterproof rear and front zippers allow for easy entry. Best of all, the Bomb Dry Suit is designed in Bomber Gear's signature Performance Cut fashion, so you know it's made with an intimate knowledge of how paddlers sit below deck. Guaranteed to keep you dry, comfortable, and begging for more. MSRP: $899.
Designed to keep paddlers dry in the wettest conditions, the Bomb Dry Pants are the perfect match for the updated Bomber Gear dry tops. They're constructed from the same 4-ply Entrant HB fabric as the Bomb Dry Top and Bomb Dry Suit, with double-stitched, taped and patched seams. Extra armor in the oxford nylon knees and seat let you consistently push limits without worrying about wear and tear. Ergonomically designed for maximum comfort, the Bomb Dry Pants feature Bomber Gear's cone-shaped cuffs and fused latex gaskets, a thigh pocket with a drain, a dual-adjustable waist incorporating a hook-and-loop closure system with sticky J-mesh neoprene, rubber closure flaps, and an internal tunnel designed to fit seamlessly with the Bomb Dry Top. MSRP: $249.
Image courtesy Verde PR & Consulting