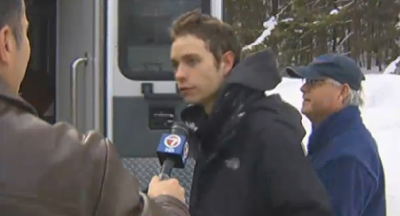 Seventeen-year-old Nicholas Joy was reported missing for nearly 48 hours in the mountains of Maine's Sugarloaf Ski Resort. According to WHDH, the teen was on a skiing trip with his father and got lost after the two took different paths. Joy had planned to meet up with his father in the parking lot but became disoriented and had ended up nearly four miles from the ski resort.
Shortly after he went missing, the warden service and resort ski patrol mounted a search of the surrounding area on skis, snowshoes and snowmobiles until high winds and snow temporary delayed the search. Joy however, roughed it out and seemed to be none the worse for wear.
A knowledge of survival basics attributed greatly to the teen's well-being. Family said that Joy was a fan of Man vs. Wild, a survival show that stared survivalist Bear Grylls in extreme environments. The show featured, among other things, the building of overnight shelters. In one episode Grylls digs a snow cave into a slope to escape the worst part of a snow storm while stranded in the French Alps. The survival expert advises creating a cave three times the size of your body with a smooth interior to preserve body heat.
"He said he watched a survival show and made a shelter with branches and drank out of the stream, so that's how he survived," said Joseph Paul, the man who found Joy. The teen found a snowmobile trail and decided to stick to it until someone came by, which happened to be the right decision.
"Amazing huh? Amazing. Two days, two nights. Strong, smart. He did the right thing. He's awesome," said Joy's mother Donna Joy after they were reunited.
Techniques on how to build a snow cave from Bear Grylls can be seen below:
httpv://youtu.be/I5J85YX9ekQ
Image screenshot of video whdh.com ,Slider Image courtesy Arlington County via Flickr